Katrice Lee: Hoaxer admits harassing missing girl's dad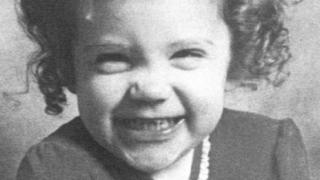 A woman who claims to be a toddler who went missing in Germany in 1981 has pleaded guilty to once more harassing the girl's family.
Donna Wright, 34, from West Cornforth, County Durham, broke a restraining order by contacting Katrice Lee's father by telephone.
Two-year-old Katrice went missing from a shop near an Army base in Paderborn.
Wright will be sentenced at Newton Aycliffe Magistrates' Court on 4 June following the preparation of reports.
Katrice has not been seen since she disappeared in a busy Naafi store near a British Army base.
In March 2013, Wright was sentenced to a 12-week jail term, suspended for 18 months, for harassing Katrice's mother Sharon in Gosport, Hampshire, and Katrice's sister Natasha.
'Nasty individual'
She had posted spiteful messages on Facebook after DNA tests proved she was not Katrice.
Now after telephone records were produced, she has admitted contacting Katrice's father, Richard Lee, at 23:45 GMT on 2 December last year and on several subsequent occasions.
Viv Waugh, mitigating, told the court his client had been diagnosed with bi-polar disorder and may have a personality disorder. She is undergoing psychiatric treatment.
Speaking outside court, Mr Lee, of Hartlepool, said Wright was a "nasty individual" whose campaign was deflecting his family from their aim of finding Katrice.
The 64-year-old, who was a sergeant in 15th/19th The King's Royal Hussars based in Germany when his daughter disappeared, added: "We are a family already enduring any parent's nightmare, and she has come along to take my family away from our true aim which is to find Katrice."
In December 2012, the family received an apology from the government about the investigation into her disappearance.
They have campaigned to try to get the original case files released for an independent review.