Battle of Lewes: England's first fight for democracy?
By Nick Tarver
BBC News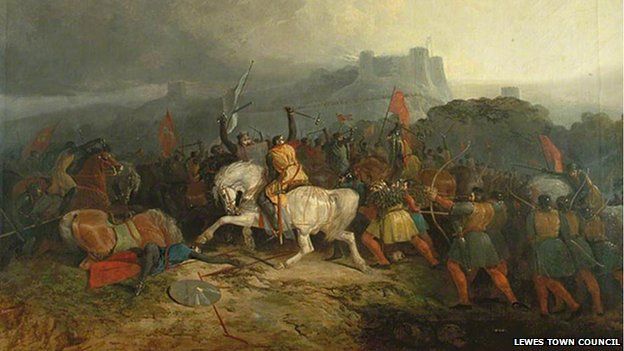 Did the Battle of Lewes, which saw King Henry III defeated 750 years ago, lead to England's first tentative steps towards representative democracy?
As bloodied bodies littered the South Downs, the King hid in a priory.
His father, King John, had been forced to sign Magna Carta by England's rebellious barons, now Henry had suffered even greater humiliation at their hands.
His victor was Simon de Montfort, the French-born Earl of Leicester, who was fighting for the rights of England to be governed by the English.
After the battle, where de Montfort's forces were outnumbered by two to one, he forced the unpopular King to transfer nearly all of his powers.
What followed for a year and half - before de Montfort was eventually killed and mutilated in the Battle of Evesham - was an experiment in representative democracy.
De Montfort called two parliaments in 1264 and 1265, both consisting of knights and leading men who had been elected or chosen in the shires and major towns of England.
King Henry remained as head of state, but his powers were severely restricted.
David Carpenter, who is professor of medieval history at Kings College London, said: "No historian has ever been able to show a parliament which had both of these before. You could say it represented the House of Commons in its earliest form.
"De Montfort was a remarkable individual. He had a sense of cause and religiosity. He was utterly committed to it. He was a great general and had a sure eye for political issues that were going to whip up a following.
"In some ways he was the Nigel Farage of his day. His motto was England for the English.
"Of course the great paradox was that he was French, but the English accepted this foreigner was here to save them."
Perhaps the greatest legacy of the battle was the effect it had on Henry's son Edward.
The prince, who would become known as Edward Longshanks, took part in the battle and was imprisoned following it.
According to, Dr Andrew Spencer, who is college lecturer at Christ's College Cambridge and specialises in 13th Century history, Edward adopted many of de Montfort's changes.
"He becomes the apogee of medieval kingship - he doesn't have favourites, he discusses things corporately and uses parliament as a way of advancing kingship," he said.
"Unfortunately he is seen as the bad king in Braveheart and his reputation has been tarnished by Scottish and Welsh historians who see him as a domineering figure.
"But from an English perspective he is probably the finest medieval English king. He brings together an English political class in a way that has not happened before."
Lewes, in East Sussex, which is proud of its non-conformist history, has been commemorating the battle with a series of events.
Among them is the creation of a tapestry, similar in style to the Bayeux.
And a song called the Sword of Freedom has also been composed and was performed on Tuesday, simultaneously with people from Lewes, in Delaware, US.
Mike Chartier, who is the vice chairman of the Sussex Archaeological Society, which has organised many of the commemorations, said: "This is an occasion to enjoy and remember.
"But obviously in 1264 the battle was disastrous for Lewes, with people killed and their houses burned down.
"This battle was extremely important - unlike the War of Roses which was about who was going to be king, this was about how the country was going to be governed.
"It was probably the first time an English monarch was defeated by his subjects."
Related Internet Links
The BBC is not responsible for the content of external sites.