River Tyne kayaker deaths: Three men named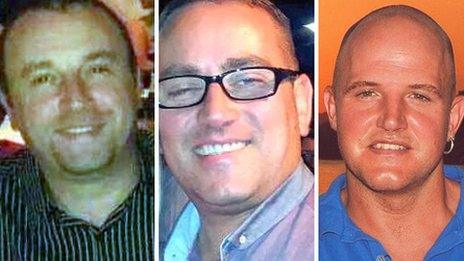 The names of three men whose bodies were recovered from the River Tyne after they went missing on a kayaking trip have been released.
Brothers Darren Thorpe, 41, and Mark Thorpe, 39, and their cousin Gavin Bradley, 36, all from South Tyneside, died after going kayaking near Hexham.
Two of the bodies were recovered from the river at Riding Mill and the other was found in the Corbridge area.
Northumbria Police said a report would be prepared for the coroner.
Police found one of the missing men's vehicles near to Hexham Rowing Club just before 01:15 BST on Sunday, and a second one three hours later at Wylam railway station car park.
The first body was recovered at Riding Mill at 05:00 and the second at Corbridge at 06:20 on Monday. The third, also at Riding Mill, was discovered at 13:15.
Northumbria Police said the men had planned their trip and knew that stretch of the river well.
The police's marine unit, other emergency service personnel and the RAF were joined by Northumberland Search and Rescue in the hunt for the missing men.
Northumbria Police said inquiries continued into the circumstances leading to the deaths.