Claudia Lawrence case: Man questioned by murder detectives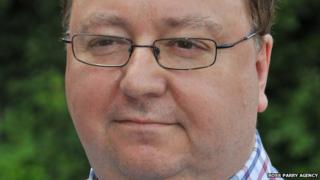 Police are continuing to question a 59-year-old man from York, who has been arrested on suspicion of murdering missing chef Claudia Lawrence.
A man named locally as Michael Snelling was arrested on Tuesday over the disappearance Miss Lawrence, who vanished aged 35 in 2009.
North Yorkshire Police is carrying out forensic examinations of Mr Snelling's house in Burnholme Grove.
A house believed to be his mother's is also being searched in North Shields.
Police have also seized a car and said further arrests could not be ruled out.
Mr Snelling was a lab technician at the University of York, where Miss Lawrence worked as a chef.
Forensic officers have boarded up his home as part of their investigation.
BBC reporter Anthony Day tweeted that a police sniffer dog has been taken into the Tyneside property on Hollywell Road.
Miss Lawrence, who lived in Heworth, was due to start a 06:00 shift at the university on 19 March but failed to turn up.
Extensive searches of the area were made, but she was not found and police have since treated her disappearance as murder.
North Yorkshire Police launched a review of the case last year and have carried out new forensic work and searches of Miss Lawrence's home.
A fresh appeal for information was made on the fifth anniversary of her disappearance in March, which was broadcast on the BBC's Crimewatch programme.
Police revealed several new lines of inquiry generated by the review of the case and a fresh examination of her home.
Fingerprints had been uncovered using techniques not available in 2009, they said.
A DNA profile of a man was also found on a cigarette end discovered in Miss Lawrence's Vauxhall Corsa.
North Yorkshire Police said the Lawrence family had been informed of the arrest and were being offered support.
Martin Dales, a spokesman for Miss Lawrence's father, told Radio York earlier: "The main hope of us all is that Claudia will be found and this works out into some form of closure.
"It's been a massive rollercoaster. Peter has always said he will carry on until we find answers."
Jen King, a close friend of Miss Lawrence, said news of the arrest was promising.
She added: "One day we will find out the truth because, irrespective of what the truth is, we have a right to know.
"She was, and is, an important part of our lives and as a friend, I feel like it's my right to know what happened to her."