Stag gore victim Dr Kate Stone says press 'trampled on private life'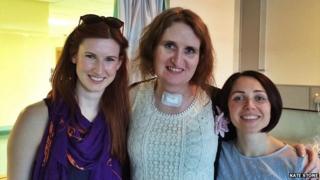 A stag gore victim who complained that six newspapers made "inappropriate" references to her transgender status has said the press "trampled all over" her private life.
Dr Kate Stone, from Cambridge, made the news after she was nearly killed by the animal in the Highlands last year.
The Press Complaints Commission (PCC) said the six papers had agreed to amend their online stories.
Dr Stone, 44, said she hoped fewer people would now face press intrusion.
She complained to the PCC that the Daily Mail, The Sun, The Scottish Sun, Daily Mirror, Daily Telegraph and Daily Record had made "irrelevant" references to her gender when covering the story in December.
The PCC said some papers used inappropriate terms such as "sex swap" and intruded into Dr Stone's personal life, publishing details including her previous name.
It said after negotiations, the newspapers removed all references to her gender from their online articles because they were "not relevant".
Dr Stone said: "Is the colour of my blood not sensational enough? I was lying on the floor in a pool of blood.
"What upset me is I knew it made a lot of people angry and a lot of people who are similar to me, it really scared them that things are put in the news that can totally destroy your life.
"Luckily, I'm a very strong person. I just wanted to help them [the newspapers] empathise with me."
Dr Stone had been invited for drinks with her companions at a house in Lochailort, near Fort William, in the early hours of 30 December when the stag, believed to have become trapped in the garden there, ran towards her.
It knocked her over, impaling her throat with its antlers.
Despite being "millimetres from death" and initially unable to walk, talk, eat or drink, she has since recovered and is back at work where she runs a hi-tech print company.
"I'm pretty much 100% better. But then the press trampled all over my private life and that can't be undone," she said.
"100% my motive is to just help reduce the chances of this happening to someone else."