Stephen Sutton death: Celebrities pay tribute to fundraiser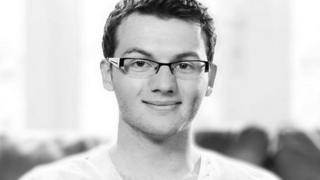 Teenage cancer fundraiser Stephen Sutton, who raised more than £3m via social media, has died aged 19.
Stephen, from Burntwood in Staffordshire, raised more than £3.2m for the Teenage Cancer Trust.
In a post on Facebook announcing Stephen's death, his mother, Jane Sutton, said he was a "courageous, selfless, inspirational son".
Celebrities have paid tribute to him on Twitter.
Comedian Jason Manford
@_StephensStory sleep well friend. xxx
Cricketer Kevin Pietersen
So sad to hear the news about Stephen Sutton. What an amazing, selfless and immensely inspirational young man. #RIPStephen
Comedian and actor Ricky Gervais
RIP Stephen Sutton. A true hero & inspiration to us all. #stephensstory
Singer Barry Manilow
#StephenSutton #Hero What an inspiring and beautiful soul.
Comedian Sarah Millican
So sad to hear about Stephen Sutton. What a wonderful and inspiring man. RIP.
Actress and TV presenter Lynda Bellingham
What a brave and wonderful boy Stephen Sutton. Many heartfelt condolences to his mother and family.
Walsall FC
Walsall FC are saddened to hear of the passing of Stephen Sutton, an inspiration to us all. Our thoughts are with his family and friends.
(Stephen played for Walsall's youth team)
TV presenter Clare Balding
Desperately sad to hear that Stephen Sutton has died. I feel privileged to have met him and heard him speak. @_StephensStory
Comedian John Bishop
It's amazing what an individual can achieve regardless of what is put in front of them. @_StephensStory has been an inspiration to many. RIP
TV presenter Jake Humphrey
He moved so many, and did so much, he's a hero. Sadly it's been announced he finally lost his fight. RIP Stephen. @_StephensStory