Defra tests gassing as badger cull method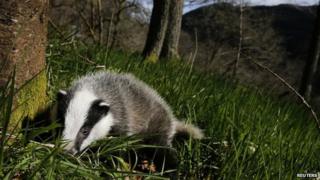 Defra has confirmed it is testing gassing as a method of culling badgers, although no animals have been involved in the trials.
A Freedom of Information request has shown tests using carbon monoxide have been taking place since last summer.
A Defra spokesman said: "Initial investigations are taking place as set out in the 25-year strategy to free England of bovine TB."
Opponents say gassing would cause considerable suffering to badgers.
News of the gassing tests comes after independent experts found that shooting free-running badgers in the first year of two pilot culls in Gloucestershire and Somerset was ineffective and failed to meet humaneness criteria.
Neither scheme managed to kill anywhere near the 70% of badgers scientists say is needed to reduce bovine TB, which badgers can spread to cattle, and more than 5% of badgers took longer than five minutes to die.
'Shambolic cull'
The culls involved shooting free-running badgers as well as trapping badgers in cages and shooting them.
The idea of gassing badgers is supported by some, including Princess Anne, who has described it as a "humane".
Some farmers also think culling is the only way to stop the spread of the disease, but opponents believe culling would not help eradicate bovine TB in cattle and that gassing is inhumane.
Mark Jones, executive director of Humane Society International UK, said: "Defra's shambolic badger cull last year showed that free shooting is inhumane and won't work and that cage trapping is hugely expensive, so now they're looking at gassing these protected wild mammals in their setts."
Defra said it planned a range of measures, including more sophisticated TB testing, developing cattle and oral badger vaccines and tighter cattle movement controls, as well as badger culling in areas where disease was widespread.
The spokesman added: "The investigations do not involve animals and it is not possible to say at this very early stage if or when gassing is likely to be a realistic or humane method of culling."