Peterborough Hospital criticised over patient A&E waiting times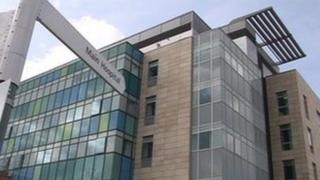 A hospital trying to cut an annual £40m budget deficit has been criticised for failing to meet A&E treatment targets.
The Care Quality Commission (CQC) has told Peterborough City Hospital to improve its child protection, complaints systems and pain relief for terminally ill patients.
CQC inspector Fiona Allinson said the hospital's maternity and bereavement services were "very good".
Director of care Chris Wilkinson said staff were working on improvements.
A 33-year private finance initiative (PFI) contract, to fund construction of Peterborough's new hospital, that opened four years ago, is costing more than £40m a year to repay.
Projects are under way at the hospital to address this issue.
Inspectors looked at two hospitals run by Peterborough and Stamford Hospitals NHS Foundation.
'Not complacent'
Peterborough City Hospital was rated as "requiring improvement" while Stamford and Rutland Hospital was rated as "good".
Both were assessed under a new inspection regime, introduced by the CQC to provide a detailed picture of care in hospitals.
Ms Allinson said Peterborough Hospital struggled to meet national targets, especially "the four-hour waiting time for treatment in A&E".
Ms Wilkinson said the hospital had been aware of the issues of waiting times and targets for moving patients on to new levels of care, either at home or in hospital wards.
"We are not complacent and staff have been working very hard to bring the areas of concern for the CQC to the same level as those services which are assessed as very good," she said.