WW2 US airbase art in East Anglia to be preserved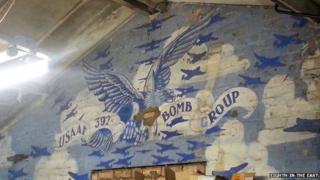 Hundreds of examples of World War Two wall art drawn by US bomber crews at airbases in the East of England are to be documented in a new project.
Eighth in the East aims to preserve the cartoons, murals and graffiti painted by the crews between 1942 and 1945.
The £575,000 Heritage Lottery-funded project also wants to look at the legacy the US Eighth Army Air Force (8th AAF) left for the east.
About 28,000 US personnel occupied 70 airfields over the three years.
The study is looking at airfields spread across Norfolk, Suffolk, Essex, Hertfordshire and Bedfordshire.
The group said the study could be extended to cover Northamptonshire if further funding was secured.
It is hoped new research will uncover clues about what happened to the "Sistine chapel" of wartime airbase artwork in Britain.
This was a large mural by the celebrated cartoonist Bruce Bairnsfather, painted at a US base in Northamptonshire in 1944.
The 30m mural, in part depicting a ship bringing GIs back to New York, has not been seen since the 1950s.
The first planes of the newly-formed 8th AAF arrived in East Anglia in May 1942, just months after the bombing of Pearl Harbour in December 1941.
David Cain, project manager for Eighth in the East, said that every airbase had wall art in some form, from cartoons to pin-ups.
"It was seen as bringing life to the airbases at the time, but also as leaving their mark because they did not know whether they were coming back or not."
Much of the wall art was painted on bricks or corrugated iron, which has posed a new problem for the project.
"There isn't a lot of knowledge about preserving on brick or corrugated iron," said Mr Cain.
"More is known about preserving medieval art than World War Two wall art."
The Eighth in the East project was set up to record the impact of the Americans on the East during WW2 before all evidence is lost.
As well as airbase art, volunteers with the project will gather wartime memories and survey surviving military buildings and runways.
"What's interesting is that we're talking to a lot of people who were children at the time," said Mr Cain.
"It's the children's experiences of the war that's coming through."
Eighth in the East is due to run for three years.