'Unique' Anglo-Saxon coin could give royal murder clue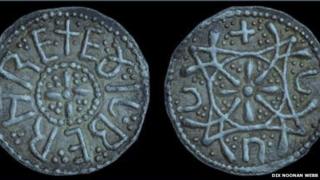 An Anglo-Saxon silver penny that may give a clue to the murder of an East Anglian king by a neighbouring monarch has been found in a Sussex field.
Darrin Simpson, 48, from Eastbourne, found the coin with his metal detector.
The 1,200-year-old coin, minted during the reign of Ethelbert II, will be auctioned in London next month.
It is believed the coin may have led to Ethelbert's beheading by Offa, King of Mercia, as it was struck by the East Anglian king as a sign of independence.
Auctioneers Dix Noonan Webb said the coin was expected to fetch between £15,000 and £20,000 at the auction on 11 June.
The coin is only the fourth-ever found from the reign of Ethelbert, who ruled in the 8th Century.
The other three are all in museums and have a different design.
'A shock'
The coin found by Mr Simpson is the only one to have Ethelbert's name and the title Rex on the same side.
"I thought it was a Saxon coin... and I was very happy about that," said Mr Simpson.
It was not until he contacted the Early Medieval Corpus of Coin Finds at the Fitzwilliam Museum in Cambridge that he realised how important his discovery was.
"It was a bit of a shock, really. This is a unique coin," he said.
The auctioneers believe the coin was minted during Ethelbert's reign with the approval of the more powerful King Offa.
But the fact that Ethelbert's name and the word Rex were on the same side of the coin may have been seen as a degree of independence unacceptable to Offa, who then had him murdered.
Christopher Webb, head of coins at Dix Noonan Webb said: "This new discovery is an important and unexpected addition to the numismatic history of 8th Century England."