Businessmen 'tried to fix' League Two game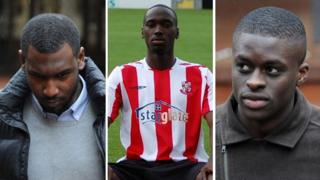 Two businessmen tried to bribe players to swing the result of a League Two football match, a court has been told.
Chann Sankaran, 33, and Krishna Ganeshan, 44, allegedly tried to fix the result between AFC Wimbledon and Dagenham and Redbridge on 26 November.
The two men, from Singapore, both deny conspiracy to commit bribery and three counts of bribery.
Footballers Michael Boateng, 22, Hakeem Adelakun, 23, and Moses Swaibu, 25, each deny conspiracy to commit bribery.
They also deny a separate alternative charge of bribery.
'Willing recruits'
Birmingham Crown Court has heard the accused were part of a conspiracy to fix results in order for friendly benefactors as far afield as Asia, as well as themselves, to make money on bets.
The offences are alleged to have taken place between 1 November and 26 November last year.
The court has heard Mr Sankaran, of Singapore, and Mr Ganeshan, of Hawthorn Road, Hastings, East Sussex, were central figures in the alleged conspiracy.
The three footballers are said to have been willing recruits who played an important role in recruiting other players to take bribes.
The alleged offences were brought to light by an undercover investigation into football corruption, later taken over by the National Crime Agency (NCA).
Robert Davies, prosecuting, told the court Mr Swaibu acted as a middleman between players and Mr Sankaran and Mr Ganeshan in an attempt to fix the AFC Wimbledon vs Dagenham and Redbridge game.
There was no evidence of wrong-doing by anyone involved at either club, he said.
Mr Davies alleged Mr Swaibu, of Tooley Street, Bermondsey, south London, was paid £3,000 at half-time, even though the eventual result did not go according to the businessmen's wishes.
Mr Swaibu, Mr Boateng, of Davidson Road, Croydon, and Mr Adelakun, of Mayfield Crescent, Thornton Heath, both in south London, were all employed by Conference South club Whitehawk FC, based in Brighton.
The prosecutor said the pair met the businessmen separately in a Croydon coffee shop and were each given 450 euros (£367) to "act improperly" to swing the results of a game they would be playing in on 30 November.
Unknown to any of the accused, the men were paid out of 60,000 euros (£48,900) in cash which had been marked and provided by the NCA and then delivered by an undercover officer who recorded all his dealings with the men.
During the conversation, Mr Ganeshan is alleged to have told a potential benefactor about an attempt to fix the game on 26 November, after Mr Swaibu apparently told them he had been in touch with some Dagenham players.
The trial, which expected to last five weeks, continues.