Southeastern paid out £1.6m compensation after landslips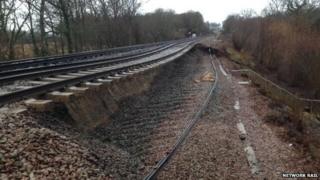 Southeastern trains paid out more than £1.5m in compensation to commuters in one month.
The payouts in March came after a series of landslips closed part of the route between Hastings, Tunbridge Wells and London.
The first closure, due to the heavy rains over winter, took place on 23 December.
The line was fully re-opened on 31 March after it was delayed by a month after repairs near Whatlington failed.
Speaking at a public meeting in Tunbridge Wells, Mike Gibson, who is public affairs manager at Southeastern, said: "In the 16 weeks to 1 April 2013, we paid out about £150,000 in compensation for delayed and cancelled trains.
"In the four weeks to 1 April this year that figure had risen to £1.6m."
In March, Network Rail said it had assigned £2.3bn of investment to increase the number of seats available and improve stations in the South East.