Yorkshire museums get contrasting records for visitor numbers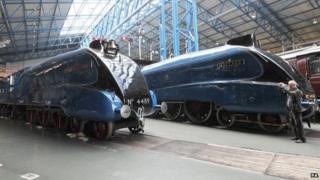 One of Yorkshire's two Science Museums has recorded its highest visitor numbers for a decade, while the other has seen the lowest since 2004.
The National Railway Museum (NRM) in York saw 923,000 people pass through its doors last year, an increase of almost 200,000 compared with 2012.
But Bradford's National Media Museum (NMM) saw a drop of 13,000 to 480,000 visitors, compared with last year.
The NMM said a fall in cinema goers was responsible for the drop in numbers.
Last year, The Science Museum Group (SMG), which owns the two museums, said one could shut if further cuts were made to its budget but local MPs intervened and both museums remained open.
'Visitor records'
NRM director Paul Kirkman said the rise in visitors was largely due to the success of a series of events to celebrate the 75th anniversary of the Mallard breaking the world speed record for a steam train.
He said: "Our Great Gatherings of all six steam survivors set new visitor records in July and attracted just under 250,000 visitors to York in total.
"Our commercial income was also up 30% in keeping with the visitor figures which can be invested in the future of our museum."
The director of the NMM, Jo Quinton-Tulloch said the decline in visitors was "disappointing".
However, she claimed that general admissions to the museum's galleries and exhibitions had gone up by 8% compared with 2012.
"The cause of the overall drop has been a reduction in the number of visitors to the museum's cinemas and in particular to the IMAX, " she said.
"One of the developments we are working towards is to enter into a cinema partnership with a commercial operator which will result in significant investment to upgrade the IMAX."
At its peak in 2007, the NMM had more than 737,000 visitors.