Match-fixing trial hears of 'conman concerns'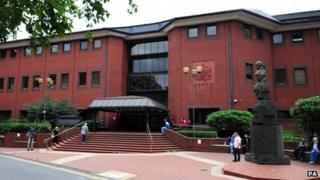 A court has heard of concerns a businessman accused of involvement in a match-fixing scheme was a conman looking to dupe potential financiers.
Chann Sankaran allegedly claimed that he could fix the outcome of a certain football fixture by bribing players.
Mr Sankaran, 33, and Krishna Ganesha, 44, who are both from Singapore, deny conspiracy to fix football matches in November last year.
They face three additional charges of bribing footballers - which they deny.
Claire Newell, the Daily Telegraph's investigative editor, told the jury at Birmingham Crown Court that she doubted claims allegedly made by Mr Sankaran that he could fix the outcome of a match in November.
Mr Paul Mendelle QC, defending Mr Sankaran, asked her about a meeting claimed to have taken place between an undercover investigator, Mr Sankaran and two men posing as footballers in Manchester on 16 November.
The newspaper had been tipped off about the potential story by the investigator, and was working with him to verify the claims.
The Telegraph was approached to take on the story by the investigator, who needed the newspaper to put up the bribe money and pay for flights and accommodation for Mr Sankaran to come to the UK from Singapore.
Secretly filmed
Robert Winnett, the Telegraph's head of news, told the court he authorised 60,000 euros (£48,591) to be "shown", if required, to Mr Sankaran at a meeting at a hotel in Manchester on 14 November.
That meeting and a subsequent one the next day were clandestinely recorded and secretly filmed by the newspaper's investigative team.
A meeting at a Burger King restaurant with the men posing as footballers was also captured on audio tape.
The paper dropped the investigation when Mr Sankaran and the other alleged plotters were arrested by officers from the National Crime Agency on 20 November but did run articles prior to the men being charged.
Mr Sankaran, of Hougang Avenue, Singapore, and Krishna Ganeshan, of Hawthorn Road in Hastings, East Sussex, deny entering into a conspiracy in order to fix the outcome of matches.
They each face three alternatives charges of bribing footballers.
Michael Boateng, 22, of Davidson Road, Croydon, Hakeem Adelakun, 23, of Mayfield Crescent, Thornton Heath, and Moses Swaibu, 25, of Tooley Street in Bermondsey, London, are each accused of conspiracy to commit bribery, with a single alternative charge of bribery against each of the three.
Mr Boateng and Mr Adelakun have been sacked by Brighton-based Conference South side Whitehawk FC since the allegations surfaced, and appeared alongside fellow Conference South player Mr Swaibu.
The prosecution allege Mr Sankaran and Mr Ganeshan were the "central figures" in the alleged conspiracy, and their three co-accused were "willing recruits".
The men deny all the charges.
The trial continues.