Match-fixing accused footballers 'made bad cock up'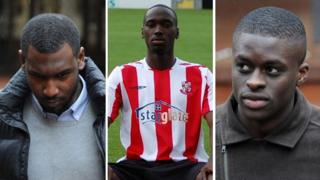 The alleged architects of a match-fixing scheme were left "embarrassed and furious" after footballers failed to turn up to a meeting with potential financiers, a court has heard.
Michael Boateng, one of three players accused in the case, was allegedly told they had made "a bad cock-up".
Businessmen Krishna Ganesha, 44, and Chann Sankaran, 33, deny conspiracy to fix football matches in November 2013.
At Birmingham Crown Court, they also deny three additional bribery charges.
Jurors heard the meeting, at the Marriott Victoria and Albert Hotel, in Manchester, was also attended by a financial backer called Ed who had 60,000 euros (£48,600) to initially fund the fixing of three matches.
But unknown to those present, he was an undercover officer with the National Crime Agency (NCA), the court was told.
Robert Davies, prosecuting, read a transcript of a secretly recorded conversation from 22 November, 2013.
He told the court the men were discussing fixing a game on the following day involving non-league side Bromley, where Singaporean businessmen Mr Ganeshan and Mr Sankaran suggested they had control of five players.
'Different team'
Reading the transcript, Mr Davies said Ed had asked the businessmen: "So, you know what it (the result) is going to be?"
Mr Ganeshan then allegedly replied: "One goal, first half, two goals, second half.
"We double up [our money], because Bromley is three-to-one odds."
But none of the players showed up to the meeting.
Ed also discovered the players allegedly travelling up by car from London were not in fact from Bromley, but were from Brighton-based Conference South side Whitehawk FC, who were not playing the following day.
When Mr Sankaran reeled off the players' names, including two other co-accused conspirators, Michael Boateng and Hakeem Adelakun, Ed said: "I can't find these [players], they're not even in the squad.
"Hang on - it's a different team."
Mr Sankaran, of Hougang Avenue, Singapore, and Mr Ganeshan, of Hawthorn Road, Hastings, East Sussex, deny entering into a conspiracy in order to fix the outcome of matches.
Mr Boateng, 22, of Davidson Road, Croydon, Mr Adelakun, 23, of Mayfield Crescent, Thornton Heath, and Moses Swaibu, 25, of Tooley Street in Bermondsey, London, are each accused of conspiracy to commit bribery, with a single alternative charge of bribery against each of the three.
The prosecution said Mr Sankaran and Mr Ganeshan were the "central figures" in the alleged conspiracy, while their three co-accused were "willing recruits".
Mr Boateng and Mr Adelakun have been sacked by Brighton-based Conference South side Whitehawk FC since the allegations surfaced.
The men deny all the charges.