Rediscovering the Tame for wildlife and for people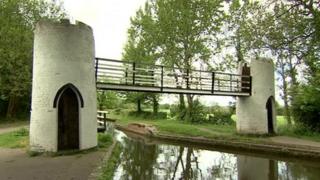 Over the past century the rivers of the Midlands have really been bashed about. They've been diverted, blocked and sometimes covered over completely.
In the more urban parts of the Midlands there's been a tradition of "canalisation". Rivers are straightened and their banks turned from gentle slopes into sharp, straight-sided drops.
Combine this all this with pollution from heavy industry and intensive agriculture and it's been bad news for rivers as wildlife habitat.
Dippers to salmon
But there's been plenty of action to try and reverse all of this over the past few years. It's had an effect too. I've been to film a small brook in Worcestershire where some loving care has brought back all sorts of species from dippers to salmon.
In a world where we increasingly worry about flooding, some of the actions taken to help wildlife might seem a bit problematic. I've seen trees felled and left in the water and even "anti-dredging" where gravel is put back into a river. These measures will slow the river flow, which is good for wildlife, but the argument is that it will also stop flooding by preventing huge volumes of water rushing through and causing floods further downstream.
Springwatch
For Springwatch, we'll be unveiling the largest scheme of its type in the Midlands to turn a much abused river back into something a lot more natural.
The River Tame Valley covers 104 sq km (40 sq miles), stretching from Birmingham to Tamworth. From north Warwickshire to south east Staffordshire. This whole area is getting a multimillion pound wildlife makeover.
Natural state
Stretches of the River Tame itself will be returned to a much more natural state. There will be new wetlands and improved visitor access. And the canals you also find crossing this landscape will also be given attention including restoration of buildings in what is an area with a proud industrial heritage.
It is a huge project and there's a big list of all those involved. From the Wildlife Trusts to charities and councils. The hope is this will turn what is a hidden, perhaps forgotten, river valley back into something special for wildlife and for people.