RMT decides not to ballot London Midland staff for action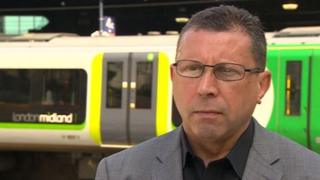 London Midland workers will not be balloted for industrial action after a "degree of progress" was made in negotiations, a union has said.
The RMT had warned the ballot of its members could take place by the end of this week.
Talks have been taking place since the train operator announced in March proposals to shed 150 jobs.
A London Midland spokesman welcomed the news and said they were committed to working with the union.
"We have had a meeting and some progress has been made," said RMT regional organiser Ken Usher.
"It means we are not pressing the button on the dispute today but that may change depending on what happens."
Mr Usher said another meeting would take place on Wednesday.
A London Midland spokesman said: "We are pleased that's the situation, no-one benefits from industrial action.
"We have said all along we want to work with the trade unions and that is what we are committed to doing."