Traveller sites for Appleby horse fair goers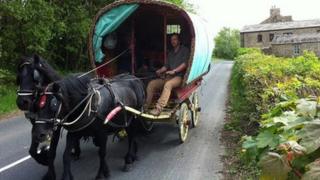 Temporary stop-over sites for travellers heading to next month's Appleby Horse Fair have opened in parts of County Durham.
The county council said the designated sites for visitors to the Cumbria event would be open until 20 June.
A spokesman said having sites would cut down on possible litter problems and they would be regularly inspected.
There are fives sites including the Wackerfield lay-by and grassed areas at Winston corner and Bowes corner.
The annual event, which attracts thousands of visitors, takes place between 5 and 11 June.
The spokesman said the council was working in partnership with parish councils, Durham Police and landowners in Teesdale.