Local elections: South East battlegrounds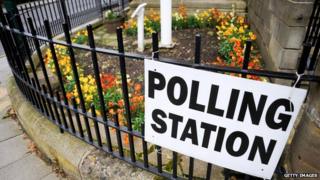 I think the local election results in the South East are significant as the Conservatives lost control of two councils - Maidstone and Crawley.
Labour won control of Crawley, which was a real boost for them - they'd pushed hard there - Ed Balls and Ed Miliband had both been campaigning in the town - it's one of their key target seats in the South East.
It's 92 on their target list nationwide and they say if they can win that at the next general election that means they would have a comfortable majority.
Of course, these were local elections and only in a limited number of council areas so it's difficult to extrapolate what would happen at the general election but there's no doubt Crawley is going to be a key battleground here in 2015.
It wasn't a good night for the Liberal Democrats - they lost two councillors in Tunbridge Wells but they do remain the second largest party on Maidstone Council which is now under no overall control.
First-past-the-post
Nigel Farage was pleased with his party's performance in Kent and Sussex and seemed to give the clearest indication yet that he will probably stand in Kent at the general election when he told the BBC he would stand somewhere south of the Thames.
But I don't think we saw the political earthquake here that he'd predicted. UKIP had hoped to take five wards in Tunbridge Wells - in fact they took none.
They did take four in Maidstone which was a good result for them but they didn't have a good night in Sussex - their only councillor in Hastings lost his seat.
To be fair they did come second in many places on votes share - including in Tunbridge Wells. The problem they have is the first-past-the-post voting system doesn't favour the smaller parties. But it could be a different story in the European Elections when the results come in.
The voting is done by proportional representation, which means each party's share of the seats is roughly the same as its share of all the votes cast.
The polls suggest UKIP will come top of the polls - if they do that will only add to the pressure on the other parties - and their leaders - ahead of next year's General Election.