UKIP gains in Yorkshire and Humber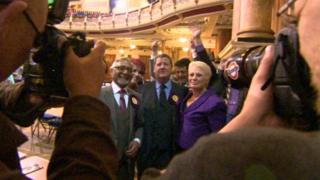 The UK Independence Party has taken three of the six seats available in the European elections for the Yorkshire and Humber region.
Labour claimed two seats, while the Conservatives won one.
The Liberal Democrats came fifth, losing the party's two seats and trailing the Greens in the total vote.
Newly-elected Yorkshire and Humber UKIP MEP Jane Collins said the size of the party's vote revealed a "deep distrust" of the EU and the European Parliament.
"It just tells you the opinion in the nation at this moment in time," she said.
"People want some eyes and ears over there - some common sense and some straight-talking people."
UKIP topped the poll in the Yorkshire and Humber region with more than 400,000 votes.
Amjad Bashir and Mike Hookem also won seats for UKIP.
Mr Bashir, a Leeds businessman, said his election disproved the portrayal of his party as a racist organisation.
"Here I am, of Asian birth, of Asian parentage, Muslim, and I have been selected by this so-called racist party. It disproves that completely."
Rotherham, where the party did well in Thursday's council election, was one of the earliest to see UKIP come in first.
It was followed by others including Wakefield, York, Selby and Grimsby.
Of the bigger cities in the region, Hull also saw UKIP come in first, although Labour came out top in the big three - Sheffield, Leeds and Bradford.
Linda McAvan, re-elected for Labour, admitted there was "some disappointment" hers was no longer the largest UK party in the European Parliament.
"If you look at the overall result, though, we've had a much better performance than we have in many European elections since 1999 when the proportional representation system first came in.
"We've doubled our representation so it's a satisfactory result."
'Not a good night'
Meanwhile, following his re-election, Conservative MEP Timothy Kirkhope tweeted: "Conservatives must press on with policies for reform, re-negotiation and referendum".
Edward McMillan-Scott, who lost his Liberal Democrat seat for Yorkshire and the Humber after 30 years as an MEP, said it had "not been a good night" for his party.
"These things happen in politics. We've got a year to go to the general election and certainly Europe is going to be a major factor in that election.
"I look forward to playing my part in some way. I'm not going to fade away and I'm a long-standing pro-European.
"What's important is that the public at large realise the importance of Europe in their lives."
The overall turnout for the European election in the Yorkshire and Humber region was 33.3%.
Seats in the European Parliament are allocated according to the D'Hondt system, a type of proportional representation.