UKIP: Can Yorkshire be a political springboard?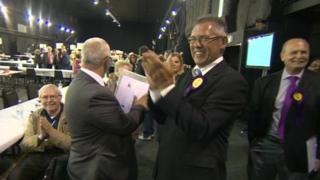 UKIPs success in Labour's Yorkshire backyard shows the party has now permanently changed the face of politics as we know it.
Who says so?
Well, Nigel Farage says so.
He says it often and in an increasingly louder voice.
But a more reflective look at the results shows that his prediction is far from a done deal with the electorate.
Earthquake or tremor?
Take the local council elections.
Just before the polls Labour had a majority in six of the big district authorities across South and West Yorkshire.
So how much of that power has Labour lost thanks to the UKIP earthquake?
In fact Labour now has majorities in seven of those councils- and runs the other two as the biggest party.
Professor Colin Mellors of the University of York is the down-to-earth political number cruncher who has been keeping a close watch on developments in Yorkshire for even longer than me.
He says UKIP success in now having eight councillors in Rotherham and a handful more across Sheffield, Doncaster, Wakefield and Bradford is the result of very careful strategic planning by the party.
"It is interesting that if you look at the councils, the wards where UKIP do well is of a particular type - white, urban, working class," he told me. "This is equally true of West and South Yorkshire
"The moral is simple and one that was learned by the Lib Dems; targeting is far better than blanket coverage, especially if their vote declines."
UKIP Yorkshire MPs
Within two weeks of the local and Euro polls UKIP's surge was tested at a by-election in the Tory stronghold of Newark. In the event the Tory majority was halved but they retained the seat. Labour lost some of the share of the vote it had in 2010 to come in third.
Colin Mellors' number crunching following the elections in Yorkshire predicts UKIP could take three Yorkshire seats at the General Election if the electorate vote in the same pattern again.
Each of those constituencies - Rother Valley; Rotherham itself and just up the road the Penistone and Stockbridge - is held by Labour and also has a solid core of white working class adults.
There is, of course, a major factor which these latest polls do not take into account.
Two out of every three voters across Yorkshire and the Humber did not bother to turn out for either the European or local elections.
At next year's General Election at least double that number are expected to vote.
As a consequence UKIP needs to at least double its statistical success if it really is to send a single South Yorkshire MP to Westminster.
Bloom's bloomers
There is another factor that UKIP will have to overcome if it is in with a chance.
In Yorkshire it had to "part company" with its previous sole MEP Godfrey Bloom in the run-up to these latest elections. The high-profile scourge of political correctness had simply become too much of a loose cannon.
In fact Mr Bloom was far from the only casualty of self-inflicted damage by the crop of 13 UKIP MEPs who won their seats in 2009.
Conservative campaigners in particular used to quote with glee that by the end of their term of office a majority of them had either jumped ship or been sacked by the party for varying levels of misdemeanour.
In the months before the 2015 General Election the new generation of UKIP political winners now have to prove that they can effectively represent the electorate better than the mainstream parties.
The clock is ticking.