Tour de France Grand Depart diary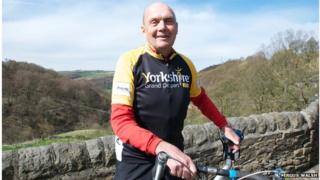 With the world's biggest bike race starting in Leeds on 5 July, BBC Yorkshire's Tour de France correspondent Matt Slater rounds up the best of the gossip, opinion and stories, on and off the bike, and also tries to explain some of cycling's unique lingo.
TOP STORIES
Ride for life Is cycling long distances the secret to a long life? I don't know, but the BBC's health correspondent Fergus Walsh has followed Yorkshire riding great Brian Robinson up Cragg Vale in a bid to find out.
Full story: BBC News
Where no cars go Kirklees Council has bitten the bullet first and announced the full horror, sorry, scale of the road closure programme for its section of stage two. Waiting restrictions will be imposed on the key roads from 1900 on Friday, a full 40 hours before the race passes by. That means residents and visitors will not be allowed to park their cars on those roads, while access to Holme Moss will be reserved for those with residential permits and emergency vehicles from the same time.
Full story: The Huddersfield Daily Examiner
It's your moneyI'm after Baby Olympic-style volunteer programme? Check. 100-day cultural festival? Check. Charge for tickets to the usually-free opening ceremony? Check. And now, for Yorkshire's latest Grand Depart innovation, the Tour de France merchandise pop-up shop, coming to a retail space near you soon. Sheffield's Meadowhall shopping dome gets one on Friday.
Full story: The Star
CYCLING ROUND-UP
Last week, when Colombian Rigoberto Uran won stage 12's time trial by almost a minute and a half, I thought we had found our Giro d'Italia 2014 champion. Sure, I thought others might go better than him when the race reached the steep stuff, but Uran is a fine climber himself and at that point had a three-and-a-half-minute lead on the man most thought would provide his toughest challenge, Nairo Quintana. That should be plenty, I thought. What do I know?
The warning signs were there over a great weekend of racing in the mountains, where Quintana beat his compatriot on Saturday and Sunday to take back almost a minute, but that was a mere warm-up for Tuesday's assault on the Giro's Queen stage, 136km of brutal climbing in freezing conditions. Quintana, the only man to trouble Chris Froome at Le Tour last year, attacked on the 2,758m-high Passo dello Stelvio, and stretched his lead with a fearless and skilful descent.
Should that have been the case, though? With heavy rain falling, it seemed to some watching at home that the race had been neutralised on the way down the Stelvio - i.e. the riders had been told to stop racing until it was safe enough to start again. The official Giro feed even tweeted as much, only to send a correction soon after.
That did not stop Quintana, though, who continued to stretch his lead on the final climb, dropping his fellow attackers Ryder Hesjedal and Pierre Rolland. Uran would eventually cross the line at Val Martello in ninth place, more than four minutes behind, and he is now one minute and 41 seconds behind Quintana. Nobody is going to take the pink jersey from him….are they?
TWEET OF THE DAY
"Wrong communication: no neutralization for the descent from the Passo dello Stelvio. Sorry for the wrong information."
The official Giro d'Italia twitter feed (@giroditalia) gets its ducks in a row after a dramatic and controversial passage over a snowbound Stelvio.
A TO Z OF LE TOUR
P is for…
Palmares - After the scraps we have had to dine on with N and O, P could be for pay dirt or plethora. A rider's palmares is his own personal roll of honour, a list of all his or her wins. This is a good one to drop into conversation if you are trying to affect a cycling hipster air this summer.
Parcours - Ditto this beauty, as it is the preferred term for "route".
Peloton - The literal translation from the French is "little ball" or "platoon", but in cycling circles this means the main bunch/field/pack, although it can also refer to professional riders in general, no matter where they are on the road. Why do they ride in these big groups, you ask? Simple aerodynamics: you can save a lot of energy riding in the peloton.
Pistard - French for track rider, as in cycling on a "piste". This can often be said in a slightly condescending manner, as most road cyclists think pistards are cossetted individuals who do not ride very far, very well or in actual weather. British riders like Sir Bradley Wiggins have often been sneered at in this way, which must make winning road races feel so much better.
Poursuivant - French for "pursuing", this word conjures up all manner of medieval skulduggery for me, but in cycling terms refers to riders who are not leading - tete de la course - but are not in the peloton either. Ideally you want to be a poursuivant who has jumped clear of the pack in hot pursuit of the breakaway, as opposed to somebody jettisoned by the breakaway and soon to be swept up by the bunch.
Puncheur - This refers to the type of rider who can do a bit of everything but particularly likes short, nasty, "punchy" climbs, as opposed to long drags up mountains. This rider loves the steep hills of the one-day classics in the spring, but is too muscular for the Alps and Pyrenees. Former world champion Philippe Gilbert is a well-known puncheur - in fact, commentators sometimes refer to rolling hills as Gilbert climbs - as is the Slovakian all-rounder Peter Sagan, although he is not quite as explosive uphill. The stage from York to Sheffield on 6 July looks ideal for a puncheur.
TODAY'S TOUR TRIVIA
This nugget comes from the prolific cycling scribe Richard Moore's latest, "Etape: The Untold Stories of the Tour de France's Defining Stages". The year was 1994, the place central Lille, the Boardman was Chris. It was the opening day of the Tour, a 7.2km prologue (a short time trial), and it was his debut. Boardman was already a big star back home, thanks to his Olympic gold on the track at Barcelona 1992, a feat he backed up in 1993 by claiming the record for riding the furthest distance in one hour. But that also was on the track. Could he mix it with the "giants of the road"? We did not have to wait long for an answer. The man from the Wirral overtook the rider who had started one minute before - a Frenchman who had belittled his exploits in the velodrome - on his way to a blistering time of seven minutes and 49 seconds, 15 seconds faster than the mighty Miguel Indurain, making him only the second British rider to wear the leader's yellow jersey. His average speed was 55kph, still a Tour record.