Tour de France Grand Depart diary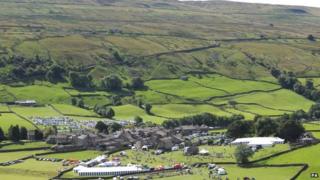 With the world's biggest bike race starting in Leeds on 5 July, BBC Yorkshire's Tour de France correspondent Matt Slater rounds up the best of the gossip, opinion and stories, on and off the bike, and also tries to explain some of cycling's unique lingo.
TOP STORIES
Yellow fever The idea that Le Tour de France is almost upon us seemed hard to fathom at a wet BBC Leeds Breakfast outside broadcast in Huddersfield's St George's Square on Thursday morning, particularly when the square's fountains started up during the first traffic update. All that was missing was the water cannon. But the world's biggest annual bike race and highlight of the European sporting summer IS just five weeks away, a milestone marked by the "Fete du Tour" this weekend. This is a Tour tradition that unites the cities, hamlets and service stations along that year's route in a weekend of bike-related celebrations. Yorkshire's Tour venues have risen to the party challenge with a huge range of baking classes, beer festivals, fun rides and organised "yellowing" of some sort or another. From The Real Community Tour in Kirklees to painting lampposts yellow in York, there is something from almost everybody.
Full story: Le Tour de France Grand Depart website
Me old Muker Still looking for a party on the weekend of the Grand Depart? Let me recommend the charms of Muker, a lovely little place at the bottom of Buttertubs Pass, with a packhorse bridge, a pub that seats 50 and a tea room with room for 20, including my unruly mob on Wednesday. Concerned that those 70 seats might struggle to accommodate the expected hordes of cycling fans, the burghers of Muker - Emily and Darren from the pub, and a farmer called Christine - have decided to put on a three-day festival that can entertain 5,000 revellers. There will be "live art", cinema, music and family fun, and I can vouch for the cream teas.
Full story: The King of the Mountains Festival
Cobbled classic For those strong enough to resist a dare to ride 120 miles, perhaps a shorter challenge might tempt you. Leeds' first "CityCross" will take place on 14 June in Holbeck Urban Village. This will entail a 20-minute bike route, Belgian beer, cycling stalls and music. Much more sensible.
Full story: Yorkshire Evening Post
CYCLING ROUND-UP
The Italian media has been calling it the "stage of the century", a leading team boss thought it was a farce and wants the race director sacked, a veteran rider likened it to being thrown to the lions and the man who won the day thinks people are joking when they suggest he did something wrong.
Tuesday's 16th stage was some race and they are going to be talking about it for years to come. It was certainly the main topic of conversation at the Giro on Wednesday, which witnessed a fairly uneventful stage 17 notable only for Italy's Stefano Pirazzi finally winning a stage at his home race after joining too many breakaways to remember over the last few years. He can probably be forgiven for making an "up yours!" gesture as he crossed the line, particularly as he appeared to be very apologetic about it afterwards.
There were no such sentiments from Nairo Quintana, though, as the debate raged about his remarkable display to seize control of the race 24 hours earlier. In case you missed it, the 2013 Tour de France runner-up won stage 16 by eight seconds from the 2012 Giro winner Ryder Hesjedal, but took more than four minutes out of the overnight race leader Rigoberto Uran. That put Quintana in the lead by almost two minutes. But that only tells half the story, because Quintana, Hesjedal et al launched their assault on the way down a snowbound Stelvio, moments after many of the other riders, Uran included, thought cycling's equivalent of the safety car had come out. While confusion reigned at the 2,758m summit, with some riders stopping to put on waterproofs, Quintana was flying down the mountain, oblivious to the slick conditions. By the time everybody realised the race was still on, Uran was two minutes behind and in trouble.
Quintana more than doubled that lead on the final climb, it must be said, but that will not stop the debate. The race finishes on Sunday.
Meanwhile, the debate about Chris Froome's ability to work with erstwhile colleague Sir Bradley Wiggins continues - we have only been talking about it for two years - with the latest tale suggesting Wiggins is in talks to join Australian team Orica-GreenEDGE. Is the other side of the world far enough for these two?
TWEET OF THE DAY
"Three major TDF contenders staying on Mt Teide and no out of competition tests for the past 2 weeks. Very disappointing."
Reigning Tour champion Chris Froome points that he, Italian rival Vicenzo Nibali and Spanish star Alberto Contador have all been training on Mount Teide, a volcano on Tenerife, recently, but none has been visited by an anti-doping official.
A TO Z OF LE TOUR
Q is for…
Queen stage - Nothing to do with Freddie Mercury's band, this is the stage that includes the highest point in the whole race, and is usually the race's hardest day, too. The Col d'Izoard is this year's peak point at 2,360m and it comes during stage 14 from Grenoble to Risoul in the Alps. It is one of three unclassified (the hardest) climbs that day. Just for context, the highest point on stage one in Yorkshire is Buttertubs Pass at 526m, with Holme Moss on stage two coming in at 524m.
TODAY'S TOUR TRIVIA
Talk of the Queen stage got me thinking about the L'Etape du Tour, the mother of all mass-participation rides for faux Froomeys and would-be Wiggos. Organised by the owners of the Tour de France, the Amaury Sport Organisation, it is a chance for more than 8,000 amateurs to ride one of the toughest stages of that year's Tour a few days before the pros do it for real. This year's Etape is being held on the route for stage 18 from Pau to Hautacam in the Pyrenees, which is not quite the Queen stage but does feature an ascent of the Col du Tourmalet, a 17km slog to a height of 2,115m: a proverbial leg-breaker. The Etapes are nearly always held on the Tour's second rest day, which means any amateur that manages it will only have to wait four days to see how the peloton copes on Thursday, 24 July. Some of them should be ready to move again by then.