Norfolk A47 crash victim offers £10,000 to find driver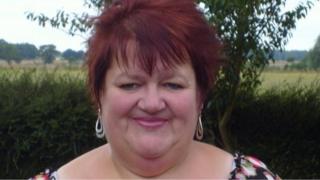 A £10,000 reward is being offered to identify the driver of black car involved in a fatal crash in Norfolk.
Andrew Scottow said he put up the reward to find the driver who caused him to collide with another car on the A47, near Dereham, on 14 February 2013.
Mr Scottow, who was driving a Skoda Felicia, tried to swerve to avoid the car and collided head-on with a Peugeot 406 travelling towards him.
Kim Utting, 52, from Swaffham, who was in the Peugeot, died.
Mrs Utting's daughter, who was driving the third car, suffered minor injuries in the crash.
Mr Scottow was taken to the Norfolk and Norwich Hospital and then transferred to Addenbrookes in Cambridge, where he remained for several weeks.
"Despite numerous appeals, the identity of the driver of the black car is still unknown, so Mr Scottow is offering a £10,000 reward for information leading to an arrest and conviction in connection with the collision," a police spokesman said.
'Right thing'
Mr Scottow said: "Someone knows who the driver of that black car was.
"I want them to think about what the result of that driver's actions has been to Mrs Utting's family, my long-term injuries.
"Hopefully, with a bit of incentive, they will come forward and do the right thing."
Officers are also appealing for information about the drivers of two further vehicles seen in the area at the time of the crash.
"The first is the driver of a small black hatchback car which was seen driving erratically towards Norwich and failed to stop at the scene," the spokesman said.
"It overtook the green Peugeot and a white long flatbed lorry.
"The second is the driver of the white lorry, which appeared to have something fluorescent on one of its wing mirrors and also failed to stop at the scene."