Navitus Bay wind farm opposed by Conservative group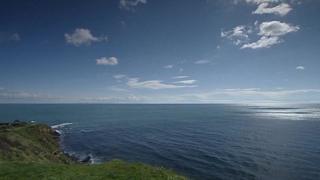 Conservatives on a council in Dorset have decided to unanimously oppose a proposed off shore wind farm.
The group, which leads the Borough of Poole Council with a minority, said it had "major economic, environmental and sustainability concerns" about the proposed Navitus Bay project.
If approved, the development would be built off the coast of Dorset, Hampshire and the Isle of Wight.
Navitus Bay said it was "surprised and disappointed".
The Tories said they were not speaking on behalf of the council.
'Offends common sense'
They said a survey showed a "significant majority" of local residents were opposed to the plans with "major concerns" including the visual impact, sustainability, and the possible effect on tourism and the marine environment.
Group leader Elaine Atkinson also said it was in an Area of Outstanding Natural Beauty (AONB) and added, "to place an inefficient industrial complex slap bang in the middle of it offends common sense".
"Whilst we support renewable energy, far too many concerns remain unanswered and the questionable benefits are far outweighed by the negatives," she added.
She said the proposed wind farm would need "massive subsidies" and would only have a life of 25 years, while the sea bed and immediate area would be affected for hundreds of years.
Mike Unsworth, Navitus Bay project director, said polls conducted by independent researchers, and feedback from local residents contradicted the Conservative group's findings and "indicate majority support".
He also said the proposed farm would have a "significant positive impact" on the local economy.
According to latest independent projections, he said it could support a minimum of 1,700 jobs during "peak construction years", with about 140 jobs annually at its operations and maintenance base - for which Poole, Portland and Yarmouth harbours have been shortlisted.
He urged local residents and organisations to register their views with the Planning Inspectorate.
Plans for the development, which would comprise 194 wind turbines up to 200m (650ft) high, were submitted in April amid claims it would contribute £1.6bn to the economy over 25 years, and would generate power for up to 700,000 homes.