Funnel cloud witnessed in East Midlands skies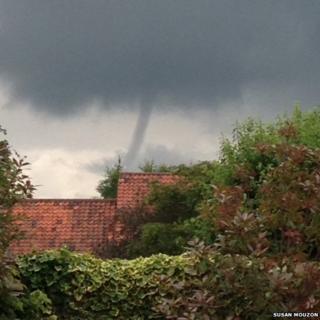 A funnel cloud has been spotted in the skies across the East Midlands.
The sky structure - which was mistaken by some people for a tornado - was witnessed in Nottinghamshire, Derbyshire and Lincolnshire.
BBC weather presenter Sara Blizzard described funnel clouds as a "violent, rotating column of air" that extend between types of cloud.
She said for them to be classed as tornados they would have to make contact with the ground.
'Faster and thinner'
Misty McGrath said she was driving along the M1 from junction 28 on Wednesday when she saw a "tornado cloud formation".
She said: "The clouds seemed to be swirling and I thought it was a trick on the eye, but they definitely formed a tornado, funnel shape.
"It got faster and thinner and longer until I had driven past and couldn't see it any more."
Dave Elliott, from Kirkby-in-Ashfield, Nottinghamshire, filmed the funnel cloud from his conservatory at about 17:30 BST on Wednesday.
The weather event was also seen in the Market Rasen area of Lincolnshire and parts of north Derbyshire.
Ms Blizzard, a weather forecaster for East Midlands Today, said: "A funnel cloud is a violent, rotating column of air that is visible and extends from the base of a towering cumulus or cumulonimbus with the tip pointing towards the ground, but it doesn't make contact with it.
"A waterspout is another version, where it forms over the water and can be referred to as a weak tornado.
"Waterspouts can sometimes move inland, becoming a tornado."
She added that funnel clouds can be strong enough to bring down a light aircraft.
Are you in the East Midlands? Have you spotted the funnel cloud? Please send us your comments and photos. You can email us at haveyoursay@bbc.co.uk using the subject line 'Funnel cloud'.