Custody battle boy Moksha Jai Joshi's death probed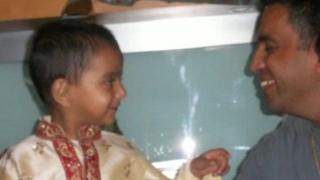 The death of a four-year-old boy in a fire believed to have been started by his mother is to be subject to a serious case review.
Janma Joshi, 40, and her son Moksha Jai Joshi, known as Jai, died in the blaze in Moscow Drive, Liverpool, on 8 May.
Lancashire Safeguarding Children Board (LSCB) said it would review the role of agencies involved in the case.
Ms Joshi had been involved in a custody battle with the boy's father, Paresh Patel, from Preston.
Mr Patel had won custody of his son and had agreed Ms Joshi could look after him during holidays from Howick CE Primary School in Penwortham.
At the time of the fire, Jai's mother had kept him for a week-and-a-half longer than specified in the custody agreement.
Jane Booth, independent chair of the LSCB, said it was "a very sad case".
"We have considered the circumstances of this child's tragic death and have decided that a serious case review should be commissioned," said Ms Booth.
Merseyside Police said it was aware of the existence of a court order and social service involvement with the family.
The force said: "The information provided to Merseyside Police made it clear that the police did not have a power from the court to forcibly remove the child from the address."
It said there was "no evidence of any third party involvement" in the fire.
An inquest into the death of both Ms Joshi and Jai is due to be held on 7 July at Liverpool Coroner's Court.