Tour de France Grand Depart diary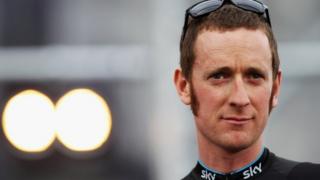 With the world's biggest bike race starting in Leeds on 5 July, BBC Yorkshire's Tour de France correspondent Matt Slater rounds up the best of the gossip, opinion and stories, on and off the bike, and also tries to explain some of cycling's unique lingo.
TOP STORIES
On your marks, get set… In exactly one month's time from the moment that I wrote this sentence, the 101st Tour de France will be passing through Skipton…and some roads along the way will have been closed for almost a day. The first half of that sentence is - I think almost everybody would agree - is very exciting; the second half is causing a few people some concern. On Wednesday, the Grand Depart's organisers launched an interactive map - that is available online or as a mobile app - to help Yorkshire plan for the big weekend. The key message is get organised, get there early and get your car off the route. Thursday's Look North will have a lot more on this later.
Full story: Yorkshire Evening Post
On yer bikes : Of course, one of the key issues in the "an expensive way to cause a traffic jam vs the best advert Yorkshire will ever get" debate that surrounds the Grand Depart, is the promise of a cycling legacy for the region. Will the sight of 198 professional cyclists powering up the Scott Hall Road inspire people at home or on the roadside to have a go themselves? Only time will tell, is probably the best, if slightly boring, answer, but there is no question about the need for more of us to do more exercise. A report from the All Party Parliamentary Group on Primary Care and Public Health has revealed that a quarter of all adults in England are now "inactive", and that a failure to do something about this could cause a "tsunami of premature deaths". British Cycling thinks it knows the answer: "The physical inactivity and obesity crisis is not going to go away and getting more people on bikes for short journeys is a key solution."
Full story: British Cycling
Recycling in action: With another official report confirming just how money chronic inactivity is costing us - £10bn a year, according to the APPG document above - it is especially important to highlight the really good work that is being done out there to get people moving again. The Kirklees-based charity Streetbikes is a great example of what can be done with a bit of imagination and a lot of hard work. It staged the Real Community Tour of Yorkshire in Huddersfield on Sunday, a fun ride that got almost 250 cyclists of all abilities, ages, shapes and sizes out on the road. It also managed to hand out 160 recycled, free bikes to people without wheels.
Full story: Huddersfield Daily Examiner
What charities like Streetbikes are so adept at doing is spreading the word about cycling as a means of transport and a feel-good activity that everybody can try. There is, however, something else that cycling is good at: burning the calories contained in fun things like beer and cake. I have already written about the numerous breweries in Yorkshire that have hitched their wagons to the Tour engine, but only one of them can claim to be a "Stage Winner". That distinction goes to the Little Valley Brewery's polka-dotted creation, made in honour of Streetbikes patron and Yorkshire cycling great Brian Robinson, who in 1958 became the first Brit to win a stage at Le Tour.
Full story: Halifax Courier
CYCLING ROUND-UP
The "will Wiggo ride?" debate is not the only Tour de France selection issue that is currently vexing close followers of the professional peloton. In fact, Tour selection issues are pretty much the only thing anybody is talking about right now as we wait for the next meaning action to start at the Criterium du Dauphine in Lyon on Friday. This is the eight-stage race that is often a great indicator of who will be lining up at Le Tour. It is the next race that Chris Froome is hoping to win with a strong Team Sky contingent behind him: a contingent that does not include Sir Bradley Wiggins.
He, for it is worth, is preparing for next week's Tour of Switzerland. The fact that he has been asked to do so whilst also preparing for a return to the track at the Commonwealths this summer, is perhaps the best indication of what he will be doing in July.
If Wiggins does miss Le Tour, he will be joined on the side lines by Belgium's former world champion Philippe Gilbert and French climbing prospect Warren Barguil. Gilbert wants to concentrate on regaining the world title, and Barguil's team, Giant-Shimano, is prioritising Marcel Kittel's hunt for stage wins.
One big-name rider who is definitely concentrating on a good showing in Yorkshire and beyond this July is American Tejay van Garderen. The BMC Racing team leader has struggled for fitness so far this season after a good start to his 2014 campaign in Oman, but he says he is in fine fettle now and ready to challenge Froome and co all the way to Paris.
TWEET OF THE DAY
"30 days to go until @letour and @letouryorkshire. Who's ready?"
@letouryorkshire concentrates minds with a to-the-point tweet.
A TO Z OF LE TOUR
V is for…
Voiture balai - The French term for "broom wagon", the vehicle that follows the race sweeping up those who can no longer continue: it is a ride no cyclist wants to take.
TODAY'S TOUR TRIVIA
One of the great things about writing a daily diary about Le Tour on the BBC website is that book publishers start to send you the latest scribblings of their cycling writers. I am currently working my way through an uncategorised mountain of Tour literature, and there really is no need for family members to send me birthday/Christmas gift suggestions: you will be getting a cycling book.
Anyway, Irish author Feargal McKay has written "The Complete Book of the Tour de France", and if I was to judge a book by its cover, so to speak, I would say it is comprehensive. I would also say that it is full of interesting nuggets, if its prologue is anything to go on.
I have written before about Le Tour being created in 1903 to boost the sales of an ailing newspaper, but what I did not know until now is that the original idea was based on a British creation: the six-day race.
This was an event that would run from early Monday to late Saturday (there would be no racing on the Sabbath, obviously) and would involve long sessions of intense track racing. The most famous of these took place at New York's Madison Square Garden, but they actually started in either Birmingham in 1875, or London in 1878 - it is a matter of some dispute. Six-day racing had not taken off in French velodromes by the turn of the century, but cycling fans were well aware of them, having read accounts of how brutal they were. What McKay points out is that the creators of Le Tour were effectively proposing something they had already described as "cruel", "inhuman" and "torture", but on an even grander scale. It would turn out to be circulation gold, though, so torturing cyclists is clearly what the public wanted.