New Order's Stephen Morris to return to childhood church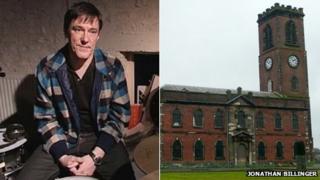 New Order drummer Stephen Morris is to return to the scene of his first ever public performance - a church in Macclesfield - for a festival show.
The 56-year-old, who hails from the town, gave a reading at Christ Church as a schoolboy.
He will join singer Tim Burgess for a show there as part of the Barnaby Festival on 22 June.
It will only be the second time he has played his hometown, following his performance with New Order in 1985.
Morris formed Warsaw with Ian Curtis, Peter Hook and Bernard Sumner in 1976. The band changed their name to Joy Division and later, following the death of Curtis, became New Order.
'Bee in bonnet'
He said he had only appeared once before because Joy Division "couldn't get a gig" in the town.
"When I was playing with Joy Division, there was nowhere to play," he said.
"There was basically Moreton Hall and the Travellers Rest pub and we couldn't get a gig."
He said he had "a bee in my bonnet" about Christ Church, where he "used to go for harvest festivals, Easter and Christmas".
"It's a marvellous space and it's not really being used - it could be a great place for bands to play."
He will be playing as part of Burgess' Acoustic Sanctuary, alongside Bad Lieutenant guitarist Jake Evans and poet Mike Garry.
The two-week Barnaby Festival, which begins on 14 June, will also see music performances by Morris' wife, fellow New Order member Gillian Gilbert, and The Blockheads, alongside an arts and theatre programme.