Tour de France Grand Depart diary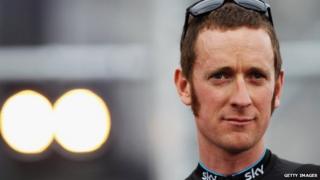 With the world's biggest bike race starting in Leeds on 5 July, BBC Yorkshire's Tour de France correspondent Matt Slater rounds up the best of the gossip, opinion and stories, on and off the bike, and also tries to explain some of cycling's unique lingo.
TOP STORIES
No question what Friday's biggest tale is and it is a blockbuster: too big for the Cycling Round-up section, in fact. After weeks of speculation, Sir Bradley Wiggins turned up on the BBC Breakfast sofa to do what Team Sky seemed unable to admit: he confirmed he will very probably not be on the Tour de France start line in Leeds. Given his fractious history with teammate Chris Froome, the criticism he received in Froome's recently published and serialised autobiography, his absence from Tour training camps and reconnaissance trips, and entirely different race schedule, we should perhaps not be at all surprised by this. And yet it is shocking. Wiggins is the most famous, current British rider, on a British team, and the world's most famous bike race, that he became the first Brit to win only two years ago, is going to start in Britain without him.
Full story: Everywhere but the BBC got it first
Hard to know where to go after that, so let us take baby steps down in terms of magnitude by focusing on the confirmed line-up for the Tour's Team Presentation, or opening ceremony. If you will recall, there was an element of controversy about this selection, too, as Yorkshire's organisers have decided - with the Tour owners' approval - to ramp up this event and charge punters to see it. With a cheapest ticket of £45 plus booking charges, and posh seats at £85+, many people wondered what could be added to a ceremony which is normally free to justify those prices. Well, how do the Brighouse Beatles, Embrace, sound to all you good, good people? And Alistair Griffin doing Tour anthem "The Road" with Kimberley Walsh on backing vocals? Throw in Opera North, Hope and Social, French star Pauline Vassuer, stunt-riders and lots of fancy lighting and I think you've got a reasonable night out.
Full story: Huddersfield Daily Examiner
CYCLING ROUND-UP
With the Top Stories section poaching the best cycling story, let us look ahead to next week's big Tour warm-up race, the Criterium du Dauphine. Formerly known as the Dauphine Libere, after the regional newspaper that created the race, it is a week-long stage race in south-east France, which makes it pretty bumpy.
This year's event starts on Sunday with a short time trial in Lyon, which includes a 1.8km section on a new underground bike and pedestrian path, known as "Le Tube". After that, it is pretty much uphill, which makes this a great indicator for Le Tour.
Chris Froome is the defending champion (Wiggins won the two previous editions), but chief rivals Alberto Contador and Vicenzo Nibali will be eager to seize the pre-Tour initiative from him. Also in the field are American duo Tejay Van Garderen and Andrew Talansky, and promising Pole Michal Kwiatkowski. It finishes on Sunday, 15 June.
TWEET OF THE DAY
"How can Bradley Wiggins end up being yellow jersey? Sign with @tinkoff_saxo and wear (yellow) all year long"
@tinkoff_saxo owner and social media addict Oleg Tinkov, whose team wear yellow and blue, opens transfer negotiations with the British cycling star.
A TO Z OF LE TOUR
W is for…
Wada - Sadly, you simply cannot stage a Tour de France these days without the World Anti-Doping Agency getting involved, willingly or otherwise, at some point. You never know quite what the story will be (a big star testing positive, rumours of a new drug, fresh revelations from the past etc) but you know there will be one, and they normally break in on the Friday before it starts.
Wheelsuckers - One of my favourites this, but I sense it is going out of fashion as people start to realise it is actually more common than they think, and entirely sensible. Basically, this is a pejorative term for a rider who sits behind his rivals, never leading, never attacking, just waiting. This is to do with the aerobic advantages of following somebody, but also a defensive mind-set. Recent winners such as Cadel Evans and Wiggins have been accused of doing this, but it was hardly surprising they would ride this way in the mountains given their strength as time-triallers.
TODAY'S TOUR TRIVIA
Prior to the Wiggins' bombshell that wasn't but still feels that way, I was going to spend today talking about how much food pro cyclists need to consume to ride more than 2,000 miles in three weeks, and I still want to. In fact, this evening's Look North will have a report on this very topic live from a café on the Tour route with a special guest expert.
In the meantime, I will leave you with the following tidbit. On the hardest days in the mountains, the riders can get through 9,000 Calories, which is almost four times the recommended amount for a male adult. Even digesting this much food and drink is a challenge, particularly when you are on a bike for up to seven hours, which is why they feast as they go, with easy-to-digest quantities of carbohydrate and protein. Juiced vegetables, apparently, are the new fad. Fail to get this right and you "bonk", cycling-talk for hitting the wall - a funny term for a very unamusing sensation.