Sonning B478 Playhatch Road closed for investigation work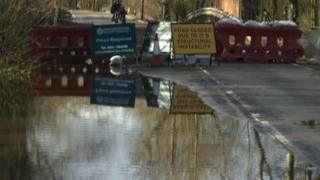 A busy commuter road is closed for two days while engineers investigate flood damage.
The B478 Playhatch Road, which leads to Sonning Bridge and links Oxfordshire and Berkshire, was closed for about six weeks earlier this year because of flooding.
It carries an estimated 16,000 cars on weekdays.
The closure at Sonning Eye is from 08:00 until 17:00 BST on Saturday and from 09:00 until 17:00 BST on Sunday.
Oxfordshire County Council told the BBC last month that engineers planned to reinstate the washed-away embankment to its original shape and height.
The road was closed in February because of flooding and has been partially closed since March.
A full closure of the route forces drivers to use Reading Bridge and Caversham Bridge.
David Nimmo-Smith, the council's cabinet member for transport, said: "We have made assessments of the nature of the embankment and the amount of void beneath the road, but we need to confirm it before the work can start."
Resurfacing and reconstruction of the road is also due to take place and dates for the work will be set over the summer and autumn.