Scores of 999 callouts for play equipment stuck teens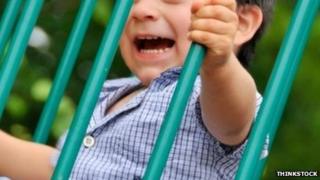 Firefighters across England were called to assist teenagers and adults stuck in children's play equipment almost 200 times in the past five years.
The fire service said each instance costs taxpayers about £300, meaning the mishaps have cost at least £60,000.
Most of the 192 rescues involved teenagers, but 13 adults were also helped.
Sean Bone-Knell, director of operations at Kent Fire and Rescue Service, said it took crews away from emergencies.
He said: "Calling out fire crews is a serious matter as it can mean they are not available to deal with a life threatening house fire or car crash.
"We'd really like to discourage people from doing this so we can respond to genuine emergencies."
He added that rescues can also result in the play equipment being dismantled which can have an impact on park users.
Baby swing rescues
Thirty-nine fire services across England replied to the Freedom of Information requests which revealed most people were rescued from swings which were designed for babies or children.
Highest number of rescues
Devon and Somerset Fire and Rescue Service - 21
Kent Fire and Rescue Service - 21
Cheshire Fire & Rescue Service - 18
West Midlands Fire Service - 11
Hampshire Fire and Rescue Service - 10
Surrey Fire and Rescue Service - 10
Devon and Somerset Fire and Rescue Service and Kent Fire and Rescue Service said it dealt with 21 rescues each during the five year period.
Alex Hanson, Devon's area manager, said: "We have a duty to help people and prevent injuries from occurring in a variety of circumstances.
"However, some of these incidents appear to be avoidable and we would ask that play equipment designed for children is only used by those of an appropriate age."
The Fire Brigades Union is yet to comment.