BBC East Midlands news website wins top award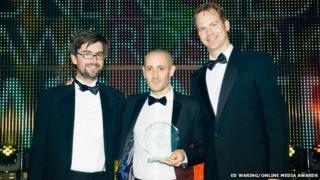 BBC East Midlands has been named best regional news site at the 2014 Online Media Awards.
The team beat 11 other nominees from across the UK at the London ceremony.
James Lynn, assistant editor of BBC News Online England, praised their "ambition, creativity and sheer hard work".
In the other categories, The Guardian won website of the year and four other awards including outstanding digital team and best investigative journalism.
BBC News Online won four more awards: Best Site for News-led Journalism, Best Twitter Feed for @bbc breaking, Best Use of Crowd Sourcing for NHS Winter Watch and an award for Journalistic Enterprise.
Organised by online marketing and media publication The Drum, the awards seek to "identify the best and the boldest of online news-based creativity and also the most original".
The judges said the East Midlands site, which covers Nottinghamshire, Leicestershire, Derbyshire and Lincolnshire, was "well organised, timely, with a good range of features".
'Powerful and moving'
Greig Watson, from the East Midlands team, won a special Journalistic Enterprise award for his project to trace photographs of the 133 crew who took part in the Dambusters raids
He said it was "rare to be able to work on such a powerful and moving article".
"It makes it all the more impressive that people across the UK, and across the globe, responded to it so well," he added.
James Lynn said: "We were absolutely over the moon to walk away with two awards - especially given the calibre of the competition.
"This feels like a hugely important night for BBC News Online England. We're so proud of everyone in the East Midlands news team for their ambition, creativity and sheer hard work over the past year.
"Well done especially to Greig for his work on the Dambusters project. I know how determined he was, and it was great to see the finished product win so much praise and admiration.
"As well as being a fantastic piece of journalism, it also feels like a fitting tribute to those who took part in the raids, and a genuine historical resource."