Tour de France Grand Depart diary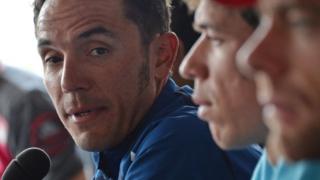 With the world's biggest bike race starting in Leeds on 5 July, BBC Yorkshire's Tour de France correspondent Matt Slater rounds up the best of the gossip, opinion and stories, on and off the bike, and also tries to explain some of cycling's unique lingo.
TOP STORIES
With all due respect to Yorkshire's numerous noble newspapers, you can tell the Grand Depart is approaching when the likes of The Wall Street Journal give it some of their column inches. It seems word has reached Manhattan of the minor flap over the Tour Maker army being issued with orders not to call visitors "duck", "love", "tulip" or "insert your own favourite term of endearment here". In the customary thorough style for which US newspapers are renowned, the WSJ quotes just about everybody, including Harold "Dickie" Bird and Shakespeare.
Full story: The Wall Street Journal
And here is another story we have seen elsewhere, but this is a fresh outbreak. Schools in North Yorkshire's Craven area may have to shut on Friday 4 July, as Tour-related road closures may make access to them difficult. This usually delights the children, but makes life tricky for mum and dad. A local policeman says the best way to view that Friday is as if it were a "snow day". We should clarify, however, that nobody is actually forecasting snow. I think.
Full story: Craven Herald
CYCLING ROUND-UP
While the Criterium du Dauphine continues its slow build towards a brutal weekend of climbing in the Alps, the popular Spanish rider Joaquim Rodriguez has announced he has recovered from the injuries he picked up in a crash at the Giro d'Italia and is now aiming for Le Tour. Nicknamed "Purito", Spanish for cigar, Rodriguez had planned to skip the Tour this year in a bid to win either the Giro or his home Grand Tour, the Vuelta. But a heavy fall in Italy, which broke a thumb and a rib, put paid to that, and he will now chase stage wins at Le Tour, and overall victory at the Vuelta. Few would begrudge him that, as the 35-year-old has nine top-10s and four top-three finishes in the sport's three biggest races, but is yet to win one. He has also "only" won one Tour stage, which is surprising for a rider of his quality, although he has only ridden the race twice. I think he might like Yorkshire's lumpy second stage.
Another rider who could go well on the road to Sheffield is Carlos Betancur, but he appears to have gone AWOL back home in Colombia, and his team AG2R La Mondiale is now worried he will not be back in time to get his work visa sorted out for the rest of the season. A South American star fails to show up for work at his European team? Cycling really is the new football.
Elsewhere, as predicted, Sir Bradley Wiggins' name was included on England's teamsheet for the Commonwealth Games but it should be noted that the actual deadline for revealing which events you want to do is two days' notice. So there is still plenty of time for further speculation about what Wiggo will do this summer.
TWEET OF THE DAY
"Cycling boom is here to stay: 2.1m adults riding once a week in England."
@BritishCycling responds to the latest sports participation figures from Sport England. Cycling is now second only to swimming in popularity for the over-26s, and third overall for all age groups.
TODAY'S TOUR TRIVIA
The latest in "100 Cycling Climbs" series from Lycra-clad scribe and masochist Simon Warren is a pocket-sized guide to the best and/or most significant climbs from the Tour's long history. Among its many insights is the relatively straightforward explanation for how climbs are categorised in the race. A 4th category climb is one you can do in the car in 4th gear, a 3rd category climb needs 3rd gear, and so on. Presumably, "HC", or uncategorised, climbs just destroy your clutch so should be avoided. Warren, whose previous two books in the series listed 200 of the best climbs in the British Isles (and cyclists love lists almost as much as they love mountains), also has an excellent "spectator's guide to a day in the mountains". Among the items that he says are de rigueur are a newspaper, saucisson, flags, a large sign, a quality umbrella and beer. Fail to prepare; prepare to fail.
THE COUNTDOWN - 23 DAYS TO GO
23 seconds was Alberto Contador's winning margin over Cadel Evans in 2007 - the second smallest margin in the Tour's 111-year history. The race for victory has been getting tighter in recent years, with three of the eight closest races in Tour history coming since 2006.