University of Warwick helps safeguard our vegetables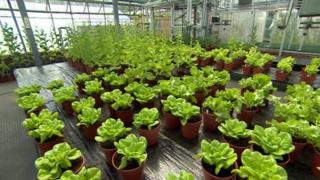 Who knows what difficulties the future farmers of the UK might face?
A lack of water, new diseases or insect pests could all cause problems for the crops they grow. But researchers at the University of Warwick are charged with protecting our lettuces, carrots and other vegetables with their seed bank.
Modern vegetables may be what shoppers want, regular-looking, tasty and happy growing in today's climate.
But because of years of careful plant breeding deep inside their cells, their DNA is all a bit similar. That leaves them vulnerable to new and unexpected changes.
The purpose of a seed bank is to preserve genetic diversity which would otherwise die out.
You keep seeds from unfashionable and even wild varieties of common vegetables. And inside these plants you have an explosion of different genetic traits that might prove very useful in the future.
Drought-resistant genes from a wild lettuce could be bred into a commercial variety to help it thrive in a world with less water, for example.
A living thing
The seed bank is based at Wellesbourne, in Warwickshire. Here, 14,000 types of seed are kept under lock and key at -20C.
We couldn't film that part of the store but we were shown round the greenhouses where they turn those seeds into plants.
A seed bank is a living thing. You cannot just store the seeds and leave them because eventually they will decay over time, even if you make every effort to look after them.
So in the greenhouses at Wellesbourne, you can find all sorts of unusual old varieties and even wild vegetables.
Turns out wild lettuce looks a bit like a dandelion. Who knew?
Started by Oxfam
This particular seed bank started out under the charity Oxfam in the 1980s.
The idea of preserving the genetic diversity like this was way ahead of its time.
But slowly, the importance and usefulness of the seed bank became apparent and eventually the funding was taken over by Defra and the UK government. They have just announced funding for another five years.
For the University of Warwick, as well as looking after the future of the UK's vegetables, it is now a question of making commercial seed companies aware of this vital resource.
Not just to solve problems, but also to create brand new varieties, helping us all to keep eating our greens.