Staff quizzed in Nick Gargan police chief probe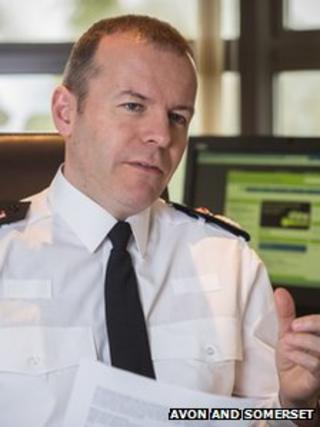 More than 40 people have been spoken to by investigators looking into claims of inappropriate behaviour by a police chief towards female staff.
In May, Avon and Somerset Chief Constable Nick Gargan was suspended following "serious allegations".
Police and Crime Commissioner (PCC) Sue Mountstevens said Mr Gargan denied the allegations and "was devastated".
The Independent Police Complaints Commission (IPCC) said concerns were originally raised by two staff members.
The watchdog confirmed that the 40 people had "provided information and intelligence" to the investigation.
Mr Gargan has been chief since March 2013 and a serving police officer since 1988.
'Inappropriate advances'
The IPPC added: "The investigation centres on allegations that he abused his senior position by making inappropriate advances to more junior female members of staff over a period of time.
"Mr Gargan has been served with a gross misconduct notice and we would anticipate that he will be interviewed by investigators once the information we have gathered has been analysed."
Serving a misconduct notice advises a police officer that their conduct is under investigation but the notices are not judgemental in any way.
Mr Gargan was the chief executive of the National Policing Improvement Agency before being appointed chief constable.
His selection came two months after Ms Mountstevens was elected as the force's first PCC.
The day after Ms Mountstevens was sworn in, former chief constable Colin Port announced he was stepping down after refusing to re-apply for his own job.
He later mounted a legal challenge against the decision to open up his job for interview but his bid to halt the selection process was refused by a High Court judge.