Tour de France Grand Depart diary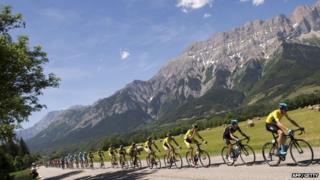 With the world's biggest bike race starting in Leeds on 5 July, BBC Yorkshire's Tour de France correspondent Matt Slater rounds up the best of the gossip, opinion and stories, on and off the bike, and also tries to explain some of cycling's unique lingo.
TOP STORIES
It is less than three weeks now, folks - that is not even as long as the race itself. And Leeds got a little taste of traffic-free cycling on Sunday with the second annual Sky Ride. Thousands of would-be Wiggos and faux Froomes ignored the light drizzle to take in 6.5km route around the city centre.
Full story: Yorkshire Evening Post
There is no point having a big party like Le Tour if you are not going to tell anybody about it, so 'chapeau' (cyclese for 'well done') to VisitBritain for the come-hither images of Yorkshire's natural charms that it has put up on 134 digital screens at Heathrow Airport.
Full story: The Northern Echo
Having drawn your attention to The Wall Street Journal's interest in Yorkshire's approach to Le Tour last week, it is only fair I flag up the City of London's response via its parish newsletter, The Financial Times. It sent noted cycling scribbler Tim Moore up north to ride stage one, and what a lovely job he made of it.
Full story: The Financial Times
CYCLING ROUND-UP
I will forgive you if you missed it - there was a smattering of other sport on this weekend - but the world of pro cycling provided at least a novella's worth of drama over the last 72 hours. I, however, do not have a novella in me this morning, so you are going to get a few paragraphs.
First, Chris Froome fell off his bike in the Criterium du Dauphine's sixth stage on Friday. No broken bones, but there was a lot of "road rash" (grated skin). His rivals sportingly did not try to take advantage of his discomfort on Friday, but they ganged up on him on Saturday and Sunday. His chief rival Alberto Contador took the lead from him on stage seven, and seemed to be heading for victory, only for American Andrew Talansky to surprise everybody on Sunday - perhaps even himself - with an epic ride to glory.
Froome, meanwhile, endured his worst day on a bike for years, finishing five minutes down and back in 12th place. Contador came second and will now be many people's favourite for Le Tour. Team Sky's leader Froome was clearly hampered by his injuries but his face during the presentations - he won the points competition thanks to his wins on stages one and two - said it all. This was a painful setback in every sense. It was also a strange week for his team. The pick of his lieutenants Mikel Nieve claimed a superb and deserved solo win in Sunday's final stage, but Froome's preferred 'plan B' rider at Le Tour, his friend Richie Porte, had a very mediocre time of it.
This, of course, will only add to the calls for Sir Bradley Wiggins' inclusion in Sky's Tour line-up, although he did not help himself with a fairly tame display in the Tour of Switzerland's opener on Saturday. He was only 14th best in the short time-trial, 32 seconds behind his great foe, Germany's Tony Martin, but it is hard to know what kind of climbing shape he is in, having spent the last couple of weeks getting ready for a possible return to track cycling at the Commonwealths. He looked OK during Sunday's stage, but the real tests are to come later this week.
There is one other big story from the weekend that cannot be ignored and that is the continuing noise around Froome and Team Sky in terms of doping allegations - or perhaps it would be better to say allegations of pushing the anti-doping rules to their limits. Froome's week in Switzerland started with speculation about the times he had set on a training ride on a famous climb in France, continued with the revelation that he has to use an inhaler for his asthma (a controversial topic in endurance sport because of the performance-enhancing qualities of some asthma drugs) and ended with a French newspaper revealing that he was given special dispensation by the sport's governing body at a race earlier this year to use an oral corticosteroid for a bad cold. Froome and his team have responded to each of these stories in a timely, forthright but calm manner, and there is no smoking gun. But the key point to make here is that sections of the media, particularly in continental Europe, remain unconvinced by cycling's protestations of a new, cleaner era, which means Froome is going to get a lot more of this in July.
TWEET OF THE DAY
"Drum roll…we've just gone past current world record of 10km. How far can we go?"
An update from @Craggvale2014 on their attempt to break the record for the longest string of bunting when the Tour visits England's longest continuous uphill gradient on Sunday, 6 July.
TODAY'S TOUR TRIVIA
There was too much Froome news in the cycling summary to mention another good line from the Dauphine, and that was the latest piece of evidence in the case for Adam Yates being British cycling's next big star, so I am going to do it here.
The 21-year-old from Bury finished third on Sunday's final stage to climb to sixth in the general classification. This followed his win at the Tour of Turkey and a fifth-place finish behind Wiggins at the Tour of California. We knew he was good, we just did not think he would be this good so soon. Yates' first big result came at last year's Tour de l'Avenir, the Tour de France's amateur version which literally translates as the "Tour of the Future".
Yates came second, matching Britain's best result in the prestigious race. Originally set up by the Tour's organisers to attract "amateur" riders from the Soviet Bloc, it is now open to national U23 teams. Five future Tour winners have won the race in the past, totalling 12 Tour wins between them, and many think the 2010 Tour de l'Avenir champion, Colombia's Nairo Quintana, will make it six at some point in the future. But he will have to get past Yates - and his twin brother Simon - to do it.
THE COUNTDOWN - 19 DAYS TO GO
The leaders of the Tour de France get a new yellow jersey at the end of every stage they complete with their advantage intact; so there is a distinction between the WEARER of the yellow jersey, the current leader, and the WINNER of the yellow jersey, the leader when it matters.
Eddy Merckx won 96 yellow jerseys during the course of his career, but Fausto Coppi, the man who many think runs the Belgian closest in the greatest-of-all-time stakes, claimed only 19. Coppi only rode the Tour three times, as he lost a large chunk of his career to WWII. But he won two of those races by massive margins, which is why Italians called him Il Campionissimo, "the champion of champions".