Businessmen and footballer guilty of match-fixing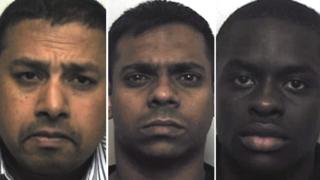 Two businessmen and a footballer have been found guilty of being involved in a plot to fix the results of lower league football matches.
Chann Sankaran and Krishna Ganeshan were convicted of conspiracy to commit bribery.
Former Whitehawk FC defender Michael Boateng was found guilty while Hakeem Adelakun, who also played for the Brighton club, was cleared.
The jury was discharged from reaching a verdict on footballer Moses Swaibu.
Mr Swaibu, 25, of Tooley Street, Bermondsey, south London, denies a single count of conspiracy to offer, promise or give a financial advantage.
He was granted unconditional bail pending a retrial.
'No doubt'
Sankaran, 33, of Hougang Avenue, Singapore and Ganeshan, 44, a British national originally from Sri Lanka, of Hawthorn Road, Hastings, East Sussex, were described during their trial as the "central figures" in influencing the outcome of matches in League Two and the Conference South. in November last year.
Mr Adelakun, 23, of Thornton Heath, south London, told the jury at Birmingham Crown Court that he knew nothing at all about any plot to fix matches.
The Crown alleged at the start of the trial that Sankaran and Sri Lankan-born Ganeshan conspired to fix matches they intended to place bets on.
Prosecutor Robert Davies said Sankaran and Ganeshan travelled to the UK from Singapore intending to target non-league conference football.
They intended to use the minimum level of bribe to get the maximum betting return, the court heard.
"They've come across to the UK with a plan to find lower league players willing to take a bribe or encourage other players to do so," Mr Davies told the jury.
A National Crime Agency (NCA) investigation began when the Daily Telegraph presented the agency with evidence from an undercover investigation.
NCA branch commander Richard Warner said: "The NCA is in no doubt that Ganeshan and Sankaran were at the very beginning of a concerted attempt to build a network of corrupt players in the UK.
"Their aim was to influence play so that they could make spot bets and manipulate scorelines to generate large sums of money.
"They clearly had links to business-like networks overseas."
Boateng, 22, of Davidson Road, Croydon, south London, Sankaran and Ganeshan are due to be sentenced on Friday.
Conspiracy to commit bribery carries a maximum sentence of 10 years' imprisonment.