Navitus Bay wind farm considered by Bournemouth councillors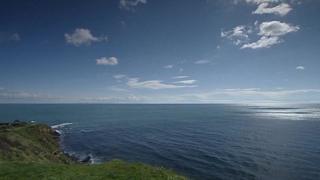 Councillors have met to consider their official response to plans for an off-shore wind farm in Dorset.
On Wednesday, a Bournemouth Council scrutiny panel was updated on the process for responding to the Navitus Bay wind farm planning application.
The panel also heard concerns from the public about the scheme, which included the potential impact on the World Heritage Site of the Jurassic Coast.
The council is preparing its official response to the Planning Inspectorate.
Because the wind farm would be a nationally-significant infrastructure project, the Planning Inspectorate is responsible for deciding on the scheme.
'Industrial landscape'
Councillor Mark Anderson, chair of the environment and transport overview and scrutiny panel, said: "For the second time this issue has come to the scrutiny panel.
"It is an extremely important development with potentially significant impacts on the economy, the natural setting of the bay, and wildlife."
In May, the council organised a public meeting that was attended by 600 people.
Other concerns have been raised about the visual impact of the development, the creation of an "industrial landscape", and potential impact on wildlife.
However, Navitus Bay has said polls conducted by independent researchers "indicate majority support" for the scheme.
Navitus Bay project director Mike Unsworth said the development would have a "significant positive impact" on the local economy.
He said it could support a minimum of 1,700 jobs during "peak construction years".
Plans for the development, which would comprise 194 wind turbines up to 200m (650ft) high, were submitted in April amid claims it would contribute £1.6bn to the economy over 25 years, and would generate power for up to 700,000 homes.
Earlier this month, the proposals were opposed by the Conservative group on the Borough of Poole Council.