Ceremony marks Wey & Arun Canal Southland Lock opening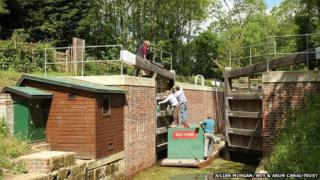 The completion of the restoration of a lock on a 19th Century canal has been marked with an official ceremony.
The Wey & Arun Canal Trust has been working to restore the 23-mile (37km) canal, which runs from Surrey to West Sussex, since 1971.
Southland Lock, near Ifold and Loxwood, was dismantled early in the 20th Century after the canal became disused.
It has taken volunteers three years to rebuild it, using local bricks to make it look as it did originally.
Funds for the £350,000 project were raised by the canal trust.
Inland waterway link
The section of canal available for navigation is now more than three miles (5km) long, with six restored, new or rebuilt locks, after more than 100 years of silt was removed.
A number of small boats made their way up the canal to Southland Lock from Drungewick before it was officially opened on Saturday.
The canal was built between 1813 and 1816 to link the Rivers Wey and Arun, and runs through Shalford, Bramley, Cranleigh and Dunsfold in Surrey, and Loxwood, Wisborough Green and Billingshurst in West Sussex.
It closed in 1871 because of competition from the railways.
Once it is fully restored, there will be an inland waterway link from London, via the rivers Wey and Arun, to Littlehampton on the Sussex coast.