Harry Swordy death ruled accidental by Cornwall coroner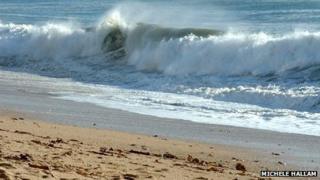 A teaching assistant who was washed out to sea while skinny dipping at Loe Bar in Cornwall died accidentally, a coroner has ruled.
Harry Swordy, 27, who was from Surrey but had been living in Devon, was one of four people hit by waves during gale-force conditions on the beach near Porthleven on New Year's Day.
His body was discovered at a beach some 1.2 miles (2km) away the next day.
Coroner Dr Emma Carlyon said he died in "extremely rough" conditions.
Mr Swordy, who was living in Ashburton, was among a group of 23 people who had come mainly from the Bristol and London areas to stay in Cornwall to see in the new year, the hearing in Truro was told.
He and three others went into the water in the early hours of New Year's Day and were hit by seas which coastguards said were between 16-23ft (5-7m) high in winds of up to severe gale force nine, the inquest was told.
The beach had signs warning people not to go into the water at any time, the inquest heard.
Members of the group had been drinking during the night, although "not excessively", a witness said. Toxicology reports for alcohol and drugs were negative for Mr Swordy, who was originally from Guildford.
The inquest heard that a pathologist found Mr Swordy's neck had been broken and he suffered multiple superficial abrasions.
Giving her ruling, Dr Carlyon said Mr Swordy had died "as a result of immersion in rough waters".
She said Loe Bar was "one of the beaches in Cornwall [where] you can't go into the sea".
Although there are beach warning signs, Dr Carlyon said she would write to local accommodation providers to suggest more information be made available about the dangers at Loe Bar.