Tractors aid Yorkshire Tour de France internet access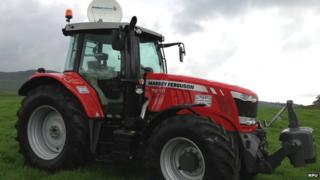 Two tractors have been adapted to provide internet access along parts of the route of the Tour de France in Yorkshire.
There is to be free wi-fi for 0.3 miles (500 metres) around each vehicle.
The tractors will be positioned at four of the busiest spots, moving from Stage 1 to Stage 2 overnight.
Richard Pearson, of the National Farmers Union, said getting internet access could be "a tricky business" in the countryside.
The race begins on 5 July in Leeds and finishes after 118 miles (190km) in Harrogate.
The riders then leave from York on 6 July and after 124 miles (200km) arrive in Sheffield.
Farmers gearing up
During the first stage, one tractor is to be at the Yorkshire Dales National Park Visitor Centre in Hawes, where 5,000 spectators are expected, the NFU said.
The other is to be at the Visitor Centre in Grassington, where about 3,000 are anticipated to gather.
For the second stage, one tractor is to be at the Steel Stage event at High Bradfield near Sheffield and the other in Holme village at the foot of the Holme Moss climb.
Mr Pearson said: "Farmers across Yorkshire are gearing up to welcome tens of thousands of people for the Tour.
"It's obvious spectators will want to use their phones to access visitor information and post pictures, tweets and so on."
A third stage between Cambridge and London takes place on 7 July.