Seaman Antonio Williams' Bristol grave reveals secrets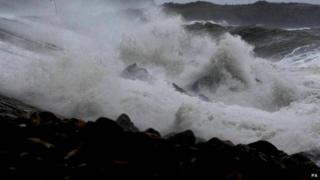 A crumbling grave that has been hiding a piece of American history has been rededicated in a Bristol cemetery. Antonio Williams won one of the United States' highest honours but his story was largely forgotten until now.
He had been to sea all of his life, but this would be the "worst storm".
The heavy iron gunboat U.S.S. Huron had ran aground in 1877 while wind and rain tumbled about the wreck. Battered and bruised, Seaman Williams fought the stormy ocean in the pitch black.
The sea off the coast of North Carolina would pick him up and throw him down before he finally reached the shore. Nearly drowned, but putting aside the pounding pain in his back, he hauled four more men out of the water before the ship sank.
Of more than 100 men onboard, only 34 survived.
For his heroics, Seaman Williams would go on to receive the Medal of Honor - the American equivalent to the Victoria Cross.
Later, he would fall in love with a Bristol woman and move to England where they lived in the Fishponds area for 18 years until his death in 1908.
Now, his dilapidated grave has been restored in a ceremony involving local people and the US embassy. And it is all thanks to the efforts of local historian Steve Lovell.
He said he came across Seaman Williams' story while researching war graves at Greenbank Cemetery. A "morbid curiosity" led him to follow up his research and visit the grave but the passage of time had not been kind and it was overgrown and filled with weeds. Nothing remained to show who laid there.
Shocked to find there was no recognition of Seaman Williams' heroism, he took it upon himself to clean up and rededicate the grave so he and others alike could remember a man they had never met.
On a fiercely hot June day in Bristol, the small group, wilting in the sunshine, could not have been further from the conditions that saw Seaman Williams receive his medal.
"There is no doubt about it, the man was a hero," said Mr Lovell, who lives in Stoke Gifford, South Gloucestershire.
"He won just about the highest American honour that there is and he lies virtually forgotten in an obscure grave in one of Bristol's biggest cemeteries."
The Sailors' Magazine - published in 1889 - states that Seaman Williams was born in Cadiz, Spain, his father being a seaman before him. But Mr Lovell says other sources have his birthplace as Malta.
"He went to sea as a boy aged 15 and spent the time up until he joined the US Navy on merchant ships and whalers," Mr Lovell added.
After spending time in Cuba and New York, Seaman Williams joined the US Navy in 1865 - the last year of the American Civil War. Twelve years later, he would find himself aboard the U.S.S. Huron.
Following repairs in New York, the steamer sailed to Hampton Roads, in south eastern Virginia, from where it left on 23 November 1877 to sail down the east coast, heading towards Cuba.
But it had been at sea for less than 24 hours when it ran aground off Nags Head, North Carolina, in heavy weather.
"They hit a storm around about midnight. The Huron had trouble with its rudder so the captain made for shallow water," Mr Lovell said.
"For a while they thought they were going to get the ship off, but it started to break up and the mast started to fall down."
Seaman Williams, who was now an experienced sailor, was ordered to "make for the shore" and run a line between the ship and land along with another man, Ensign Young.
They made off in a "balsa" - a small lifeboat - which capsized four times in the high waves before they reached the beach, only to find the line was too short.
The Sailors' Magazine, under a passage entitled "A Gallant Armourer" recounts the events of that fateful night.
Referencing a letter sent to Seaman Williams by the Secretary of the Navy, it says: "You [Antonio Williams] gave up whatever chance of life a foothold upon the wrecked vessel offered, by taking to sea...in the attempt to carry a line to the shore for the relief of your ship-mates.
"Notwithstanding your bruises and worn condition... you helped haul two men out of the water... and running back into the surf, hauled out two more."
Seaman Williams was struck in the back during his efforts and was injured to such an extent that he spent three months in hospital.
He went on to serve with the US Navy until 1891 when he was discharged. By this time he was married with three children and living in New York.
Aged about 60, he and his family moved back to his wife's home town of Bristol, where he lived out his life on a naval pension until his death in 1908.
A report in the Western Daily Press from 27 July 1908 says: "The coffin was draped with silk American flags... The hymn 'Rock of Ages' brought to a conclusion the first part of the service and bearers carried the body of the hero beneath the American flag."
Back at the grave in the present day, an American flag was once again laid across the earth.
As the rededication ceremony took place, Captain David Stracener, the US naval attaché, said: "It's a real honour to come and pay tribute to a fallen hero - a true hero of the United States of America.
"It is this history and these stories that we will continue to share with our future generations."