Gloucestershire and Oxfordshire shared services plan approved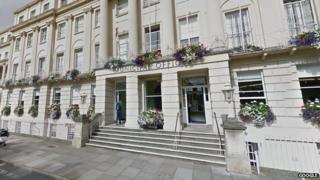 Four councils in Gloucestershire and Oxfordshire are to explore sharing services to save £55m over 10 years.
On Tuesday Cheltenham Borough Council voted to join the plan which the three other councils had already agreed upon.
The scheme involves turning council departments into separate companies to carry out joint council services.
Trade union Unison opposes the plan over concerns about staff conditions, accountability and fears that the plan would not save money.
Leader of Cheltenham Borough Council Steve Jordan said the move could lead to job losses.
He said: "We all need to make savings, so one away or another it will mean less people doing jobs.
"Hopefully that means we can avoid cutting services because that's the other alternative, and we are looking for a more productive way of doing it."
Unison's John Drake described the proposal as "scary" for staff.
He said: "This is quite a complex issue. Our concern is not only around the terms and conditions for our members but also for services that will then be provided by a private company."
The councils involved in the scheme are Cotswold; Forest of Dean; West Oxfordshire District Council and Cheltenham Borough Council.