Cheshire Constabulary Chief Constable Simon Byrne sworn in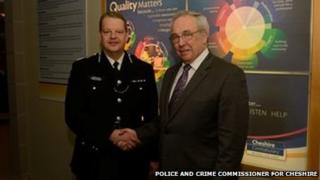 The new chief constable of Cheshire Constabulary has pledged to recruit more PCSOs and respond to car crimes within an hour of a 999 call.
Simon Byrne, a former senior Metropolitan Police officer, revealed his plans before he reaffirmed his police oath to be sworn into the post.
He replaces Dave Whatton who retired after about 30 years' service.
Mr Byrne said he wanted more officers on front-line patrols and to reduce bureaucracy within the force.
'Finding his feet'
He added: "I'm going to do some early work to see if we can grow the number of officers we employ to 2,000, that's about a rise of 50."
Since his appointment in February, Mr Byrne has spoken to officers and staff about his plans for policing in Cheshire.
John Dwyer, Police and Crime Commissioner for Cheshire, said "As chief constable designate, he's been finding his feet and observing how the force operates, which will help him hit the ground running."