Outrage at incinerator plan "trainwreck"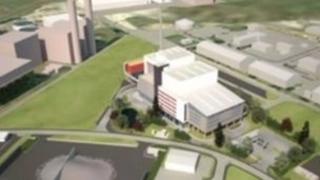 "Ludicrous...daft...a train wreck". Just three of the terms used by members of the Public Accounts Committee to describe the failed waste incinerator project for Kings Lynn.
With Norfolk County Council facing a compensation bill of more than thirty million pounds, there is a blame game underway.
So who should be held responsible?
The usual suspects; Eric Pickles (who took so long to make up his mind about the project), local MPs (who lobbied ministers to scrap the scheme), the former administration (which signed the contract), the present administration (which scrapped it) and their officers (who advised them), have all come in for criticism.
Now another culprit has been identified and that's DEFRA - the Department for Environment, Food and Rural Affairs.
The department was the subject of some very robust exchanges in parliament with MPs telling its permanent secretary, Bronwyn Hill, that her staff had "been daft" to offer finance to the project.
She, in turn, blamed the council declaring that "they went into this with their eyes open".
Tax payers picking up the bill
DEFRA had agreed to £169 millions of PFI waste credits to help Norfolk pay for the scheme but a year after awarding the money and with the contract already signed, DEFRA took the money back, saying that the council had taken too long to obtain planning permission.
"Places like Norfolk depend on you to advise them," chided Margaret Hodge, chair of the public accounts committee. "What you did was change your mind and Norfolk's tax payers...are picking up the bill".
The PAC is looking into the whole business of PFI waste credits and Bronwyn Hill was their main witness for the afternoon. She had come to answer questions about a variety of waste projects, many of them successful but it was the failed one in Norfolk that dominated much of the hearing.
Ms Hill revealed that officials at DEFRA had had concerns about the project two years before they awarded it the money.
"We thought they'd underestimated the risks, the timescale within which they'd get (planning permission for) the project," she said.
"We wrote to their chief executive officer at that time and he wrote back very firmly and clearly saying they had looked carefully at the risks..but they were confident they could mitigate those risks."
This prompted one of the committee members, Norfolk MP Richard Bacon, to ask:"Given all this uncertainty, given you were flagging up these concerns, why did you sign the funding agreement?"
It was a question which a number of MPs repeatedly asked but they never seemed happy with the reply.
DEFRA believes that while it can give advice, ultimately it was the County Council's decision about what to do; according to DEFRA, providing the project met the funding criteria, it was entitled to the money.
"It was never a case for us to substitute our judgement for the local authority's," said Dr Colin Church from DEFRA. "We would point out what we thought the issues were..and they would have to take a view on that."
The MPs questioned why Norfolk had been allowed to sign a contract with such steep compensation clauses in it. The committee asked why the council had indemnified the developers against foreign currency fluctuations and one member described the idea as "ludicrous"".
"Eyes open"
Ms Hill tried to explain that Norfolk had various options which DEFRA had advised on but she once again she made it clear where she believes the responsibility lies.
"I regret that the money has been wasted and we have not got a result for that but they were aware of the very significant local opposition led by local MPs and others to that project. They went into this with their eyes open," she said.
But Margaret Hodge was not impressed:"Councils only do this sort of thing once in a lifetime. Whether it's taxpayers' money or council tax payers' money, this is public money, you should have exerted your influence in a much more direct way."
Richard Bacon was even more forthright: " It's a train wreck, this whole outrage doesn't really help Mr and Mrs taxpayer does it?"
The PAC is clearly not happy. Its report on this issue should make very interesting reading.