Mike Hancock case: Eleanor Scott resigns from Lib Dems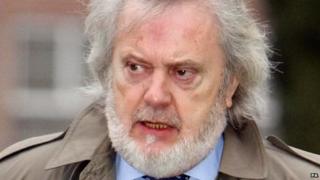 A Liberal Democrat councillor in Portsmouth has resigned from the party over its handling of MP Mike Hancock's conduct.
Earlier this month the Portsmouth South MP made a public apology over an "inappropriate and unprofessional friendship" with a female constituent.
Eleanor Scott said the party was not carrying out a "full forensic review".
Former Lib Dem council leader Gerald Vernon-Jackson said he was "disappointed" by her decision.
Ms Scott said she had met party president Tim Farron in March and received a letter from him in June promising a review, but the investigation taking place was part of the party's standard procedures after it loses control of a council.
"I don't see it as the full forensic investigation that I asked for and it certainly isn't enough time to address my concerns which are wide ranging and very detailed," she said.
Ms Scott had been a councillor for 12 years. She resigned from her cabinet post in January in protest at how the party had dealt with Mr Hancock.
She claimed the party was "very, very rotten" and she had been "denigrated by colleagues".
"The party must not continue with minimising strategies. It has to be committed to openness on critical issues," she said.
The Lib Dems lost control of the council in the local elections in May.
Mr Vernon-Jackson sad he was "sad" about Ms Scott's resignation.
He insisted the review would be an "in-depth piece of work".
"[Mike Hancock] chose to apologise having promised vigorously he would go to court and clear his name," he said.
"I took his word, I shouldn't have done and I absolutely acknowledge that."
A Liberal Democrat spokesman said: "The review will enable the consideration of a broad range of local issues. It will also offer the opportunity for any concerns to be raised."
He added that Ms Scott would still be allowed to take part in the review, despite her resignation.
Civil action against Mr Hancock alleging he sexually assaulted a female constituent was dropped earlier this month.
A subsequent statement said both parties had agreed a confidential settlement.
Mr Hancock, who is currently an in-patient at the Priory Hospital, released the 400-word apology as part of the agreement.
He had denied claims of sexual harassment, but was suspended from the Lib Dems after being found guilty of breaching standards codes.
Mr Hancock, who has been an MP in the city since 1984, was arrested in 2010 after a complaint was made about his behaviour towards a vulnerable constituent who had a history of mental health problems.
Hampshire Constabulary decided not to press charges following an investigation.
Mr Hancock resigned from the cabinet of Portsmouth City Council in February and lost his Fratton seat on the council in the elections in May.