New Forest horse crash biker death police criticised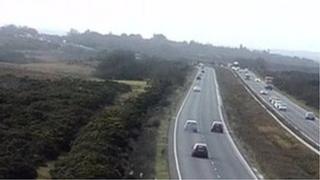 The mother of a motorcyclist who was killed in a crash with a horse in the New Forest has criticised the police for reopening the road while the animal was still on the loose.
Daniel Robins, 31, from Bournemouth, was killed when he hit the animal on the A31, near Ringwood, in January.
Another biker was seriously injured.
Mr Robins' mother Lorna Robins told an inquest earlier her son would still be alive if officers had better controlled the flow of the traffic.
The inquest heard one officer had seen the animal but it disappeared into the undergrowth on the verge of the highway and could not be found again.
After 45 minutes of searching for the horse, police decided they could not keep the road closed any longer as traffic was building up, so one lane was reopened by officers who waved traffic through.
But within minutes two motorcyclists who were the first to pull away crashed into a horse two miles further up the road, the inquest heard.
'No resources'
Mrs Robins asked, if the animal was still on the loose why had police not kept traffic moving at a slower pace for a much longer stretch.
She said: "My son would be alive today if that had happened."
The officer involved replied there were not the resources to do that.
The inquest heard the officers felt the horse was contained within a coned off area, and there had to come a point where the road was reopened.
It is not yet clear yet how fast the motorcyclists were travelling when they crashed.
Following the crash some drivers were stuck on the road for five hours.
The inquest continues.