Burglar sends 'sorry' cheque years after Cheshire pub crime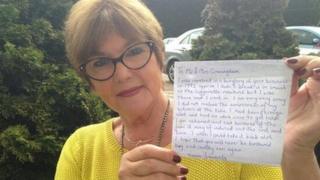 The owners of a Cheshire pub have been sent a cheque to apologise for a burglary that took place 22 years ago.
Frances Cunningham, of the Swettenham Arms, Congleton, received £100 from a woman apologising for the 1992 theft.
A note, sent with the cheque, said it wasn't her that "smashed up the cigarette machine" but she was partly to blame for the burglary.
It read: "I'm very, very sorry. I did not realise the seriousness of my actions at the time."
The note goes on: "I had been through a lot and had no idea where to get help. I am so ashamed and sad because of the fear it may of induced and the cost and time.
"I wish I could take it back a lot, I hope that you will never be bothered by such cruelty ever again."
The letter, sent by recorded delivery, finished: "P.S. If there are any further costs, let me know".
Mrs Cunningham said she was "very surprised" to receive the letter and had "very vague memories" of the pub's cigarette machine being broken into.
She said: "I am still not quite sure what to do with the £100."