Kendal boy, 13, saved from Morecambe Bay quicksand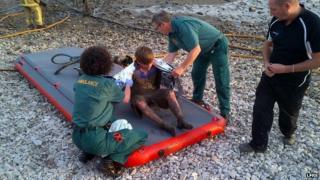 A 13-year-old boy who was stuck waist-deep in quicksand in Morecambe Bay has been saved by fire crews.
The boy, from Kendal, became stranded while fishing with his father and a friend near Silverdale on Monday.
He was helped to safety by crews from the Lancashire Fire and Rescue Service, paramedics, the coastguard and members of Bay Search and Rescue (BSR).
His friend said the boy, who was not injured, got stuck after he "wandered off too far into the sand".
He added that it was the first time the boys had been fishing in the area.
The rescue, which saw the fire crews use sand lances to free the boy, took around 30 minutes.
BSR's Paul Callard said it was easy to get into trouble on the sands and that "it does take an awful lot of people to get someone out who is stuck".
"While the sand that you stood on is hard, if you go 10ft in either direction, you can find something that you just sink ankle-deep into.
"The minute you are ankle-deep, you need help to get out and that's where all the authorities and services have to join forces."